One of the biggest German literary successes of the last few years was a young adult novel by Wolfgang Herrndorf. Kind of like a John Green from Hamburg, his unfortunate passing in 2013 led to his 2010 novel Tschick achieving a wide audience and enjoying a renewed success as this lovely story filled the minds of German youth.
Being a young adult novel that enjoy a major success it was natural that a film adaptation was only a matter of time. This is the film that played the opening night of the 2016 German Film Festival. Tschick (or to use its English title Goodbye Berlin) is brought to us by one of the most successful current German directors Fatih Akin (Soul Kitchen, The Edge of Heaven) and is an utterly charming coming-of-age tale for all ages.
Maik (Tristan Göbel) is in that sweet spot of youth just after childhood but before the depths of adolescence when everything is confusing and enraging. His days at his Berlin high school are spent sneaking glances at the most beautiful girl in his class Tatjana (Aniya Wendel). His mother and father barely speak anymore because of his mother's alcoholism and his father being a prick. To top it all off he is the only person in his class not to get an invite to Tatjana's birthday party. Things begin to change when a new classmate Andrej Tschichatschow, or Tschick for short (Anand Batbileg), gets the seat next to Maik. He's an exceedingly tall Russian with a thousand yard stare and no respect for anyone. When the summer holidays roll around the two become friends and with Maik's father out of town the two head off in Tschick's stolen car for the road trip which will define their young lives.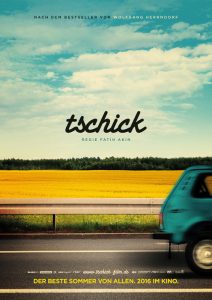 Goodbye Berlin is a lovely example of when everything just fits when making a film. It has ource material that has an excellent grasp on that strange time in your life when you're getting to know the way of the world, a director that knows how to make a comedy, and a charming group of young actors. It's a lovely example of teenage fiction largely reminiscent of The Spectacular Now and Paper Towns but set with the backdrop of the Germany countryside.
Tristan Göbel manages to carry the film largely on his own and he does a stunning job. Anyone who was a loner in high school who dreamed of being in the 'cool' crowd will identify with his performance instantly. Anand Batbileg as Tschick manages to play a very familiar character (the 'bad boy' with a secret heart of gold) with conviction and he does it while sporting one of the worst haircuts of 2016.
Above all this is a portrait of the summer we all wish we had, the road trip that takes place when you're young and free and the way of the world is yet to bring you down. While the setting and plot is familiar it doesn't detract in the slightest from Fatih Akin's funny, sweet and occasionally melancholy tale. It's a great example of just how lovely teenage fiction can be when it's done well.
Fatih Akin clearly has genuine love for his actors and the characters they're playing and if you get the chance to see this charming little film you probably will as well.
Goodbye Berlin screened as part of the 2016 German Film Festival.