King Lear, surely one of the most challenging roles that the Bard ever wrote, is not a role lightly undertaken. Playing any of Shakespeare's great roles is a monumental task which only a select few actors have the talent and mental fortitude to bring to life. These roles go in and out of fashion depending on the spirit of the time; for many years Macbeth was seen as the zenith role as an actor but that honour is now generally considered to be Hamlet. In recent years this seems to be shifting again; the titular role of King Lear is one of the greatest characters Shakespeare ever wrote into the annuls of history. Currently Antony Sher has the rare honour of playing him in the Royal Shakespeare Company's season highlight production of this old but still incredible play.
Lear has been King of England for many years, ruling over his kingdom with the power and influences that any man in the authority of the divine right of kings holds. But the passage of time has caught up with him and he wishes to step down from his throne, so he decides to divide his kingdom among his three daughters Goneril (Nia Gwynne), Regan (Kelly Williams) and Cordelia (Natalie Simpson). This decision soon proves misjudged, and he slowly loses all the authority and respect he has known as his family descends into competition and bloodshed to fill the gap he has left behind. Alone in the wilderness, this once great King is leveled as his legacy and mind unravel.
This production by director Gregory Doran (who incidentally is Antony Sher's husband) is an incredible piece of theatre. Boasting stunning performances, minimalist but effective use of props and an incredible actor in the central role, this is as grand and epic as any Shakespeare adaptation could hope to be.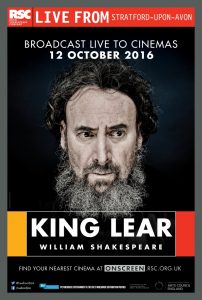 Antony Sher is brilliant playing the proud and ruthless king. It's a role that demands passion and an air of authority and Sher delivers on both. With a naturally grown beard quite reminiscent of Robert Baratheon's he certainly looks the part of an elderly yet renowned king and his voice is a great asset. It has that husky yet clear quality that sounds great for the soliloquies and he shares an attribute with Michael Shannon: a voice that really suits yelling,  which considering the role he's playing comes along very handy. Sher has been given the role of a lifetime and he's made the absolute most of it.
All performances are excellent but there are a few who deserve individual recognition. Nia Gwynne as Lear's eldest daughter is a revelation; it's surprising she isn't better known as her performance here is incredible. She has small parts in a few British films but her career is mostly spent on the London West End. Here's hoping we see a lot more of her on the cinema screen in the coming years. Graham Turner gets the coveted role of Lear's fool and does an incredible job of it, the highlight being the monologue he delivers which leads into the intermission.
The RSC has been practicing a new and slightly controversial way of selecting its actors with what's known as 'Blind casting'. Basically, a role will go to any actor if they are talented enough to undertake the character; it doesn't matter what race or nationality they are (famously this led to the ruckus of a black girl being cast as Hermione in Harry Potter and the Cursed Child). This is a great way to diversify the talent pool, especially in a theatre tradition which is overwhelmingly the realm of white men, and it's great to see England's sizeable population of black actors getting some of the most coveted roles in the artistic world. However, this does lead to the strange situation where the role of Edmund is played by a black actor (Paapa Essiedu) and his father the Earl of Gloucester is played by white actor David Troughton. Speaking as someone who went into this production a Lear virgin it was mighty confusing at the beginning and it wasn't until half way that I realised these two were father and son. This isn't a criticism but merely an interesting consequence of blind casting and also a highly singular one; surely the majority of people who see this play will already know the relation of these characters. Besides, the performances of both Essiedu and Troughton are so strong that it would be petty and wrong to have any problem with this choice of casting.
This is a very dense play, and if you're not already familiar with King Lear (like this reviewer), it isn't easy on the uninitiated. But what better way to enjoy the works of Shakespeare than to jump into the deep end? There's a reason that four hundred years later Shakespeare is still a name that every English speaking person knows. After all this time the Bard still seems to be above us all, able to put into words some insight into the human condition better than anyone before or since. He is the greatest writer that this blue planet has ever birthed and this adaptation does his name justice.
The Royal Shakespeare Company's King Lear screens in cinemas from 26th November through Picture House Entertainment.