Hayao Miyazaki isn't the only Japanese director making whimsical, environmentally charged animations. Makoto Shinkai has also contributed. Your Name is Shinkai's latest feature and it's confusing as hell, but that's not to say this isn't enjoyable; it is. Like a Miyazaki film, Your Name is bustling with ideas and certainly takes you into its lengthy, enchanted atmosphere.
Your Name is about a girl, Mitsuha (voiced by Mone Kamishiraishi) and a boy, Taki (Ryûnosuke Kamiki who has provided vocals on a couple of Miyazaki films). Mitsuha wishes to become a handsome boy living in Tokyo in exchange for her rural upbringing in Itomori. Telepathically, Taki is the person she is looking for. One morning Taki and Mitsuha wake up to find they have in fact, swapped bodies. Sharing and embracing each other's lifestyles, time plays an important role in constricting and repressing memories of their relationship.
Besides being essentially a romance, Your Name dabbles in fantasy, sci-fi, and is a disaster film. Holding together its often confusing narrative, the striking animation and music make up for it. It is strong and breathtaking. The realistic drawings sample the quirks of Japan, especially to western eyes. The sight of a Boss branded coffee falling from a vending machine or a dog café situated in Tokyo provoke laughs and made this reviewer miss Japan immensely.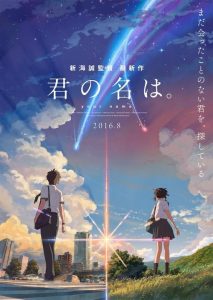 The underlying fantasy and sci-fi neons in Your Name do come across like 2001: A Space Odyssey as far as cinematography is concerned, but then the film plays with greenery and natural colours of a traditional, ceremonial Japan, giving it that Miyazaki feel. Shinkai really embellishes this split palate.
Music is also authentically Japanese and helps put this personality into perspective. It is fun and poppy, but with plenty of punk breakdowns. Performed by Yojiro Noda, a singer from the rock group Radwimps, without stereotyping it does feel like being inside a kuwaii store in Shibuya. Yet, it is still refined. Respectful moments are shared with its good use of soft and melodic rhythms.
Your Name does have some progressive themes in focus, maybe a bit more adult than Miyazaki. The concept of switching bodies enables the idea of fluidity in gender. Not that it really analyses this in a heavy political mindset, or pushes pass heteronormative behavior, but at least it can be read as such.
The film has a divided personality, taking its main plot as essentially a metaphor for trauma/amnesia. The second half explores natural disasters, making reference to the major tsunami that took place in 2011, killing 16,000 lives. Structurally this part of the film is more coherent and really gives the film its voice.
Your Name can be very much enjoyed, not so much if you want a classic story telling structure, but as a fragmented concept, exploring anxieties that plague Japanese society. If you do start to question the in-cohesiveness or the length, you will be taken out of this elaborate world.
Your Name is in cinemas from 24th November through Madman Films.