Not to be confused with Elle, the hard to watch rape revenge film from Paul Verhoeven which is out in cinemas at the same time, Ella is an Australian documentary about the first indigenous dancer selected for the ballet circuit of Australia.
In the fifty year history of the Australian ballet there has been exactly one indigenous person who has made it into the big league. Her name is Ella Havelka. Born in Dubbo and descended from the Wiradjuri people; she is the focus of indigenous director Douglas Watkin's feature length documentary. The film documents her life from beginnings in the local rural ballet school to her current residence with the Australian ballet located in Melbourne.
It isn't that surprising that Ella is the first indigenous person to be selected for the Australian ballet school – when you think of indigenous culture you don't immediately think about ballet – but it makes sense that the two would come together. Both have strong expression through dance and they're all about tradition, trying to do justice to a piece of art or knowledge that has been handed down through the generations.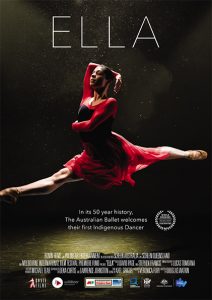 Watkin's documentary is a straight forward but nevertheless engaging look at its subject. There are interviews with Ella's mother who speaks of the incredible job of raising a child as a single mother in rural Australia, to the mentors who helped her through the crucible of professional ballet school. Ballerinas are the fittest professionals of any sport in the world; their skill show the unique potential of the human body, and few people have the body type to be able to perform this old and cultured art form. Fewer still have the work ethic to live this intense lifestyle.
The world of ballet seems to be a little bit like the film industry. Everyone loves to see the show it puts on, but for those who aspire to work in it, the fickle nature of the business makes it very difficult to get a foot in the door. Ella speaks about when she didn't get a single offer after torturous years at the Australian Ballet Academy; the business never loves you as much as you love it. Being a ballerina must be a beautiful yet daunting thing; to try and get a part on the professional circuit is tough, let alone trying to do it while you're pushing your body and mind to their limits. Like Alec Baldwin says of the film industry: it's "the worst lover you've ever had… it will seduce and abandon you over and over and over again".
Ella's indigenous culture is a crucial part of the documentary but not exactly the focus of it. In an interview she makes clear that although this is a great step for both the aboriginal and ballet community, she is a ballerina who just happens to be indigenous. It makes for a good news story but at the end of the day Ella was just another girl from a small town who wanted to be a ballerina, the difference being that she actually managed to beat the odds and become one.
After getting a world premiere at 2016's MIFF, Ella has been embraced with warm reviews from the Australian film community. It takes a special kind of person to do ballet at a professional level. The work ethic and the strain on the body aren't for the faint of heart (or feet) but Ella Havelka is one such person. This isn't just a documentary about a ballerina but one about a remarkable young woman who made her dream come true, which is always nice to witness. Although it's for a niche audience, this is a simple yet lovely Australian story. Anyone who has little girls who aspire to be ballerinas should rush them to the cinema to see it.
Ella screens exclusively at Cinema Nova from 17th November through Ronin Films.