Such a display of cynicism has rarely been seen on stage as that in Rufus Norris' staging of Bertolt Brecht's The Threepenny Opera. Its very core hails from a netherworld of society entrenched in poverty and deceit, one that teases but never indulges hope. In a sense it is post-apocalyptic where hope is a fool's errand and everyone's care for one another has been superseded by an 'every man for himself' mentality – or 'every woman for herself' for that matter. For life is shit, we are all at its mercy and we must do what we must to climb above the rubble. This staging from the pen of Simon Stephens is a lot of fun, but it's also a depressing thought.
Mack the Knife is the epitome of the underworld success. He has schemed, assaulted, murdered, blackmailed and tricked his way to a form of dastardly respectability in a certain circle. He has returned to London for the coronation; Mr and Mrs Peachum and their beggary business are waiting to swindle the masses for all they're worth.
Mack is balding and stout with a Machiavellian moustache, but someone so mild-mannered as Rory Kinnear doesn't seem an obvious choice for the role. Regardless he seems to relish the change in tack. His confidence and strut and vocal range create a fantastic presence. But of course the quality of the tenor is not the aim of this play.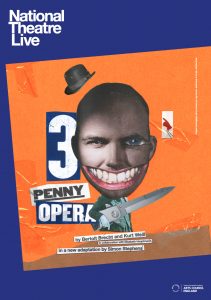 It has never been about style. It was in fact the first play staged in Germany after the fall of Nazism.  But as promised in the introduction, this world of low monetary stakes still holds all that high-flung opera is known for – blood, sex, love and intrigue. It seems odd then that this adaptation for the stage, set in 30s London left reeling from World War I, should be old in design but feel so familiar in its themes. A kind of paranoia and bitterness toward the world is transformed into a manipulative nationalism – I can think of two examples from this year. Sex here is an open book and used to both confronting and humourous effect at various stages. Disability and cross-dressing also feature prominently, though not exploitatively.
It isn't perfect, however. In much the same way as the movie adaptation of Les Miserables led the singing on a more expressive course rather than an aesthetically pleasing one, some of the numbers here can similarly drag on. This isn't helped by a score that while energetic at times is purposefully plodding enough for the words to take effect. This works both ways, as the on-stage band in costume fleetingly seen amid the inventively used rotating stage between scenes is a real asset to creating the vibrant street atmosphere.
This is an interesting piece of theatre from Rufus Norris, the director of not only this but the National Theatre itself, with start turns from Rory Kinnear as Mack, Rosalie Craig as Polly Peachum, his bride to be but also potential criminal mastermind, and Nick Holder as the menacing but comical Mr Peachum. It also seems surprisingly and dismayingly constant in the way these themes seem to recur in society. However, it isn't the best of National Theatre and let down by a lacklustre and confusing ending that is completely at odds with the rest of the play.
National Theatre Live: The Threepenny Opera is in cinemas from 12th November through Sharmill Films.