Neon Bull (or Boi Neon) is a realist and observational take on the life of cattle handlers and rodeo workers in Brazil. It is the first narrative feature film from director Gabriel Mascaro, although he has made several documentaries prior to this film.
Neon Bull follows the lives of Iremar (Juliano Cazarré), Galega (Maeve Jinkings), Galega's daughter Caca (Alyne Santana) and Zé (Carlos Pessoa). Iremar is a cattle hand who dreams of being a fashion designer; he makes clothes and costumes using fabric he collects from various places. Galega is the driver, although it would seem she is also an exotic dancer, performing for rodeo staff and ranch hands in costumes made by Iremar. Her daughter Caca lives with them, however she is meant to be with her absent father. Zé makes up the group – he is another cowhand, overweight and lazy and the butt of Iremar and Caca's jokes.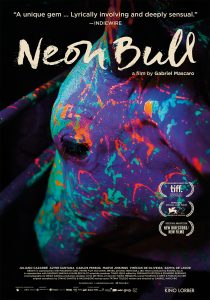 The film is far more like a documentary in its style, and yet it is a narrative film.   The strategy lays in the simplicity and realism employed in the styling, although this somewhat backfires and the film struggles to generate relevance and interest. There is little context to the story, such as it is, and it is hard to develop a sense of connection with any of the characters. Iremar clearly longs to design and make clothes, and has a sense of affection for the animals he works with. He designs and makes costumes for Galega to dance in, although she wears a horse mask while dancing and is unidentifiable. Galega hints in occasion about a different way of life, especially when alluding to Caca's father and commenting that Caca should be with her grandmother. It seems to be a common approach when making films of this realist nature.
The minimal styling does offer some lovely, elongated scenes which are beautiful in many ways – long takes of the animals, people sleeping in hammocks or going about ordinary chores and works. The film is highly observational, but unfortunately does not offer any meaning or depth to the observations.
This film is uninspiring, and actually more than simply disappointing. Unnecessarily long and graphic sex scenes were off-putting simply due to their duration.   By taking the realist stance, in more of a documentary style than that of a narrative film, the result is a film which looks good, but really doesn't say anything. With no dramatic momentum to propel the film in any direction, it results in nothing much.
Neon Bull is in cinemas from 10th November through Potential Films.