One word that comes to mind when thinking about the filmography of English director Andrea Arnold is atmospheric. Her films feel more like set pieces showcasing landscapes and lifestyles with loose narratives threading each vignette together. American Honey is effectively a road movie with a seedy underbelly and the showcase is the rotting core of Middle America.
Star (superb newcomer Sasha Lane) is stuck dumpster diving trying to feed two kids who aren't hers and being abused (by a partner, father maybe?). A chance encounter with charismatic Jake (a rather menacing Shia LeBeouf) sees Star jump into life on the road with a group of disenfranchised youth who travel the countryside in a van selling magazine subscriptions door-to-door. Guiding them all is the mysterious Krystal (Riley Keough), the power tripping cult leader who drives ahead to set the group up in roadside motels and pick the neighbourhoods the teams will hit and is equal parts sexual and bored.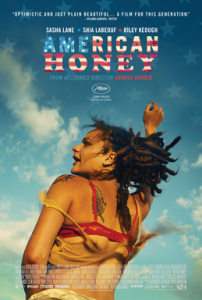 It's fair to assume from the glimpse of her former life that Star didn't have a conventional upbringing but she has a strong sense of right and wrong and struggles to find her place in this group of drug taking, swindling party people who will say anything for the quick buck that affords them the lifestyle they partake in.
At the core of American Honey is the crumbling heartland of Middle America and the notion that everybody is just hustling to get by. It presents a bleak outlook of future generations who get through life just cruising from one experience to the next, telling people they're selling magazines to lift themselves out of poverty but not living up to this promise.
At 2 hours and 40 minutes, with scenes that go on with unnecessary forced "authenticity" it is definitely too long. There were points throughout when this reviewer was wondering the point of the film and trying not to fall asleep. It's certainly surprising at turns but won't be to everyone's taste.
American Honey is in cinemas from 3rd November through Universal Pictures.