Coming out of David Mackenzie's Hell or High Water it's hard to know how to feel. Not in the sense that this is complex and needs time to digest, but about whether this is good, or just better than average. Thinking back, the same feeling occurred with Mackenzie's previous prison drama, Starred Up. At some stages it felt really intense and like it was finding itself. But after the 107-minute slot, sure enough it had all wrapped up with little lasting impact.
Hell or High Water is situated in West Texas, but in actual fact took place in Eastern New Mexico. The cinematography is vast, capturing the desert environment and corresponds well with a soundtrack arranged by Nick Cave and Warren Ellis. The film gathers the same western landscapes this duo provoked in The Proposition.
There is also satire like you would get from a Coen Brothers narrative, with Coen style-characters. It doesn't help that Jeff Bridges is in it. He plays Marcus Hamilton, a Texas Ranger, this time on the other side of the spectrum from The Dude (The Big Lebowski). Being the opposite type of character is a nice parallel with the characters that make up this narrative. The law and being against the law.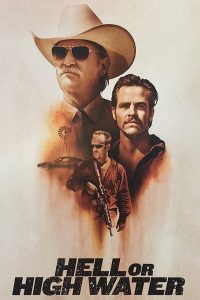 Without knowing their backstories – or any setup – the film opens with two bank robberies in the early morning. Tanner (Ben Foster) and Toby (Chris Pine) are amateur and reckless. They are brothers. Tanner has previously been in jail and is the reckless one. But the sensitive, divorced Toby, who tended to his sick mother, now dead, is the character you can empathise with. This is a case for Hamilton – who is about to go into retirement – and his partner Alberto Parker (Gil Birmingham) to find these men in question.
By now, Mackenzie's strength is clear. His characters are interesting. Not black and white, but grey. Regardless of what side of the law they abide by, Mackenzie presents a problematic case, complicating matters by showing the institutions that account for them are just as corrupt as the characters themselves.
In Hell or High Water Mackenzie contrasts these four characters in pairs: the law and the corrupt. On a greater level, as the narrative develops you can start to see that these characters aren't that alien to each other. They have similar defaults. Hamilton is a bitter character. He bullies the younger Parker about his Mexican background, laying in any opportunity to bash out a stereotype. Hamilton tries to do this in a fun jesting way, but is really asserting his dominance and insecurities. You can see this intimidation from Tanner as well. He is the eldest and controls his younger brother, Toby. Deep down Tanner is jealous of Toby's sympathetic and structured personality. Seeing these characters as flawed really enables viewers to consider these complexities that define the human spirit, and makes these cases more intricate.
When it all boils down to it though, Hell or High Water doesn't have enough impact. Even though it looks great, it couldn't be seen as jaw dropping. The acting is fine. However, when you have strong bravado like Bridges, which is of course enjoyable and adds merit, it only seems to upstage the humble feel of this piece.
Hell or High Water is in cinemas from 27th October through Madman Films.