Thank you Paul Verhoeven (Robocop, Showgirls, Hollow Man) for your eclectic and schizophrenic filmography. It appears you have done it again with Elle.
This is a hard but rewarding film with a very straightforward plot. Yet at the same time it is best to not go into too much detail. Michèle (Isabelle Huppert) is a successful businesswoman. She is raped and does not report the assault. The film is about Michèle's psychological journey tracking the person responsible in some very heavy cat and mouse games. The way Michèle handles her assault, physically, mentally, and what it could mean if she involves the police/media is something Verhoeven verbalises in Elle.
Isabelle Huppert commands this narrative like you would expect her to. Huppert's earlier role in The Piano Teacher is an example of similar themes that explore female sexuality and masochism. Not to mention it demonstrates Huppert's capabilities. She is a delight to watch on screen and in her own way makes the viewer submit. The character of Michèle is a complex, self destructive and vulnerable person. You like Michèle, and feel sorry for her, but you definitely question her actions.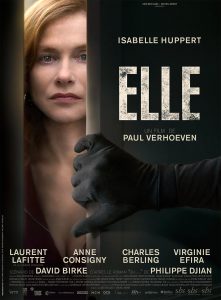 Like watching a Michael Haneke film, a director who strips down atmosphere and concentrates on emotions, Elle has a very dull mise-en-scène. This dryness is deliberate and exciting, evolving mainly in the domestic sphere. This is a dangerous and challenging place where characters come to express or repress their sexuality. However this is not a sensuous experience as such; it is harsh.
It is no spoiler that Elle is about rape and rape culture. It is upfront and happens in the opening scene. It is quite different to Gaspar Noé's lengthy rape scene in Irréversible, which happens later in the mid-point of his narrative. In Irreversible the camera is fixed, positioning the assault as plainly and violently as it speaks. It is also a seamless shot with no cuts, giving the viewer nowhere to go but rather be 'forced' to suffer the attack with the victim. The attack is also coincidental and adds to the other controversial elements that make up Irreversible and its chaotic experience. Not to discredit the crime or violence that Noé crassly and beautiful achieves, but it's the aftermath of Michèle's attack that makes Elle physically and methodically unsettling.
Exploring rape should be problematic, but it is important to do so. Verhoeven is nuanced and painstaking, contributing to the other important factors that go hand in hand with the crime, like contracting diseases, the media or how friends react.
This sort of content may not be tolerable for all. It truly depends on what you want from a film. To anyone who has seen a Verhoeven or Noé film, you are ready. It's up to you as the viewer to work with this and you can be rewarded by Huppert's menacing performance.
This is a liberating, beautiful vulgarity.
Elle is in cinemas from 27th October through Sony Pictures.