Just in time for Halloween comes Ouija: Origin of Evil, the prequel to 2014's Ouija. But instead of a trashy teen horror, it's now a family affair. Set in 1967, Alice Zander (Elisabeth Reaser) works from home as a fortune teller, with her children, Paulina (Annalise Basso) and Doris (Lulu Wilson) assisting her. Unable to connect with the afterlife, she tells her customers what they want to hear, while desperately hoping for a message from her late husband. When Paulina tells her mother about Ouija, a game she played at her friend's house, Alice adds it to the act, and then Doris starts acting hella weird.
Having not seen the original Ouija, it's difficult to remark on the presence of any original ideas in Mike Flanagan and Jeff Howard's screenplay. While it has done away with the overdone teenage focus, a look at the original film's trailer suggests much has been recycled. Judged independently, however, it is a solid ninety-nine minutes of entertainment that will have viewers (or at least this one) diving under their coats in fear.
Ouija: Origin of Evil packs plenty of scares, but doesn't overdo it to the point of exhaustion. Mike Flanagan's experience in editing (here he is editor in addition to director and co-screenwriter) shows in his adept handling of each scare, as well as the many red herrings peppered throughout. As soon as the heart rate escalates, it calms once more.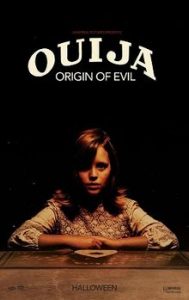 The sixties vibe is also a welcome relief from the many set-in-present-day horrors of late. Early on, before things go pear-shaped, this reviewer was reminded of a personal favourite, the nostalgic teen classic Now and Then, but this is no sunshine and lollipops. Even without the dominant teen presence, this film still brought back memories of failed attempts at séances in primary school, playing 'Light as a feather, stiff as a board', and getting scared shitless by The Craft because OH MY GOD HER HAIR FELL OUT and is there anything more terrifying than that?!
Evidently, there is. And possessed children are certainly up there. Lulu Wilson is wonderful as Doris – sweet as pie one minute, and creepy as hell the next. Her description of what it feels like to be strangled – in her most pleasant tone of voice of course – is chilling. Annalise Basso as Doris' older sister is also refreshingly decent for a teen actress; the casting department has done well.
While it may not be overly original, fans of horror could certainly do worse for a Halloween movie treat this year. Bring your candy and your best costume, and if you're game, try summoning a spirit or two afterwards.
Ouija: Origin of Evil is in cinemas from 20th October through Universal Pictures.