In 2004 Australian author Helen Gardner published Joe Cinque's Consolation. Gardner's seminal work reported on events that happened in Canberra in 2004, when Anu Singh shocked the nation by heinously killing her then-boyfriend Joe Cinque (pronounced chin-kway) by injecting him with a lethal dose of heroine after spiking a coffee she gave him with sleeping tablets.
Singh was a law student at Australian National University at the time and after the murder she and fellow student Madhavi Rao were put on trial for murder. Gardner spent a lot of time attending the court cases of both Singh and Rao in an attempt to understand the crime; she interviewed Anu Singh and Joe Cinque's families and ended up knowing more about the case than anyone else. The book ended up being an elegy to Cinque's final days and providing him and his memory a consolation that the trial could not.
Gardner's non-fiction book has now been adapted by Australian director Sotiris Dounoukos for his first feature. We begin in a Canberra bar, as Anu Singh (Maggie Naouri) meets young handsome engineering student Joe Cinque (Jerome Meyer). Flash forward three years and the two are living together with Singh's mental state beginning to unravel. Dounoukos and his co-writer Matt Rubenstein have taken the court-room drama of Gardner's book and turned it into neo noir-ish drama, as the majority of the film details the last few weeks of Joe Cinque's life as Singh's macabre plan is hatched and then carried out with the help of her friend Madhavi Rao (Sacha Joseph).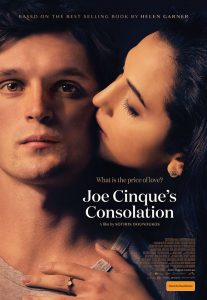 Boasting some incredible performances and an amazing sense of place and time, this is an excellent Australian feature which handles its bizarre and horrific real life case with detail, raising many difficult questions which simply don't have answers.  A very dark and exceptionally intriguing drama, this is a film which will linger in the memory for days.
The whole film hinges on Anu Singh, played here by the exceptional Maggie Naouri. Her performance towers over the film as Singh destroys nearly every one of her friendships as her mental state cracks and then unravels. She's reminiscent of Rosamund Pike's portrayal of Amy Dunne from Gone Girl, a character who so easily could have been ridiculous but is saved by a performance so good that it manages to convince. While watching it's easy to get a little chilled by Naouri, because the way she plays the paranoid, narcissistic Singh will be scarily believable to anyone who has ever seen a friend be enveloped by the black dog of mental illness. In fact the film is almost more concerned with Singh than it is with the titular Joe Cinque.
Canberra is the place where this strange tale happened and the sense of place is exceptional. The opening shot peers at the ordered streets of the Canberra suburbs, showing them deserted as a voice-over of a distressed young woman, Singh, speaks to a Triple 0 operator. It feels a bit like the opening to David Lynch's Blue Velvet, as the very bourgeois streets are intercut with tragedy. Peel away the shiny surface of the suburbs and the dark underbelly reveals itself.
The biggest question that the audience is left with is also the one that is hardest to answer. How could it be that a young, beautiful law student living in the heart of the nation's capital could commit a crime of such magnitude even when her intentions were known to a collection of her closest friends? The crime that shocked mid-1990s Australia is one that still doesn't have a clear or easy conclusion, but Dounoukos' film is an amazing piece of film making which recreates the last days of his young man with a very dark sympathy.
Who holds the responsibility for the death of this young man – Anu Singh with her broken mental state, Rao for helping, or the many friends who knew what her intentions were and did nothing? The answer will shift from person to person, and it's the real and important discussion that Joe Cinque's Consolation will prompt in your own mind as you walk from the cinema.
Joe Cinque's Consolation is in cinemas from 13th October through Titan View.