Nicolas Winding Refn's The Neon Demon will be a dividing film like his previous feature, Only God Forgives. Right down the middle, these films were appraised or booed during their premiers at Cannes Film Festival. Worried that my perspective could have also changed, as this is my second viewing of The Neon Demon, I can safely say it has been solidified once again.
Using a different cast to Only God Forgives, The Neon Demon welcomes back a neon glow fixating itself on Jesse (Elle Fanning), an aspiring model that leaves home and moves to Los Angeles. After an amateur photo shoot by her platonic boyfriend Dean (Karl Glusman, Love) that opens up the narrative, Jesse meets makeup artist Ruby (Jena Malone). Ruby welcomes Jesse to the fashion world and so begins a tale of the Hollywood vampires who are obsessed by youth and vitality.
Refn uses flat, but over-the-top characters that enhance or become washed up in the film's atmosphere. They prove they are typical Refn creations, in need of fulfilling their journeys and serving their own destruction. This blank slating and two-dimensional perspective is a common element in film noir. However, it is through Refn's atmosphere and Cliff Martinez's score that makes this an alluring affair.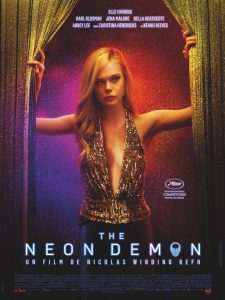 The catchy pop song "A Real Hero" from Refn's Drive and the vibe of that film in general was so much fun for the senses, and it added character to Ryan Gosling's rather flat portrayal of the Driver. In Neon Demon composer Cliff Martinez demonstrates something else. Jesse's energy through the chiming diamond sounds is neighbored with the dirty synthey flow. As quoted, Jesse is "a diamond in the sea of glass". This is a continuous sound effect that puts Jesse on a pedal stool above everyone else and helps you look at her in that way too.
Jesse is a product of a system already made for a young girl who is willing to sell her soul. She is a character who is empowering and tragic. You can see similarities from Darren Aronofsky's Black Swan that connote body horror and female vulnerability. Equally is the potent theme of metamorphosing. Using primal animal instincts as its underlining theme, the characters need to fulfill these urges to achieve solace. Jesse gets stronger and more confident like Nina, who takes on the attributes of a black swan in order to perform Swan Lake. But the tiger-like predator Ruby and her model cubs, Gigi (Bella Heathcote) and Sarah (Abbey Lee) are the ones who figuratively and literally consume vitality.
Rather than going on a mental illness tangent that fulfills Black Swan, Refn makes The Neon Demon a powerful and conceptual demonstration. From his previous films, you can see that Refn has progressed as an auteur. Themes are stronger and characters are not so one-dimensional, yet there is still enough to see it is a Refn film. We welcome back Christina Hendricks from Drive and see another special face, Keanu Reeves. Although they are only in a few scenes their characters have purpose. They assure us that heavy slabs of dialogue aren't always necessary, and allowing the audience to visualise these character outside the frame is something Refn does so well.
The Neon Demon is ballsy and confident. To some, it may be indulgent and absurd, but to those willing to participate, it will bring a wry smile to your face.
The Neon Demon is in cinemas from 20th October through Madman Films.