Knowing how loathe most people are to celebrate stereotypes of their own nationalities, I'm hesitant to vouch for how much truth is contained in the exuberant Italian comedy Where Am I Going? However, it has proven to be the biggest-grossing film ever at the Italian box office so I'm going to assume that it hits the nail on the head. In any case, this is a ripper.
Checco Zalone co-writes and stars as Checco in a Forrest Gump type tale for Italy's post-GFC world, starting near the end while he recounts his life to date to an exotic tribe holding him captive. However, where Forrest Gump is the perennial do-gooder, Checco is pretty much everything that's wrong with the Italian worker. He's sexist, selfish, lives with his parents well into his thirties, working literally across the road. What's more, he relishes it because he has what few others do – a permanent position in the public service, which pretty much guarantees him paid work for life and a big pension at the end of it. But things are changing, the government is reforming away from stale bureaucracy and are paying severance packages to entice people out of these goldmine positions.  But as someone who has always been told never to relinquish such a privilege, Checco will go to every length to keep his entitlements at the expense of all others. He really is a shit.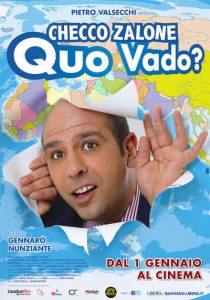 The gags flow so thick and fast in Where Am I Going?, directed and co-written by Gennaro Nunziante, that it's hard to single out any one scene as being a particularly memorable one, though what is most surprising is the regularity at which the jokes hit the mark. Most are at the expense of Italians themselves, self-deprecation that is quite endearing. A few are also directed for good measure at the comparatively liberal lifestyle of Norway, the home country of love interest Valeria (Eleonora Giovanardi) and being introduced to Valeria's children is perhaps one of the more rewarding comedic moments I can remember this year.
Immigration, sexism and disability all get a go in what at times feels like a bit of a sketch show in the way the location – and Checco's occupation – jumps around. What is clear is that Checco Zalone has achieved something of cult status in Italy as a result of this unique blend of repulsiveness, helplessness and charm. But while it a movie laced with schadenfreude, it's nice to also sense a beam of hope for a reformative Italy. Because while it is satisfying to see this particular man's world of selfish entitlement crumble around him, the light nature of the film lets us empathise enough to enjoy his redemption and the realisation of where he should be going.
Where Am I Going? is in cinemas from 13th October through Palace Films.