In post-WWII London, Hester Collyer (Helen McCrory) is the wife of a barrister-turned-high court judge. But she wouldn't say as much. She couldn't say so, given her present circumstances – holed up in a dingy apartment and sunken into a tempestuous and secretive affair with former star test-pilot Freddie (Tom Burke). For all its pleasures, it is an intense love that arguably has done no favours for either of them, and Sir William Collyer (Peter Sullivan), Hester's estranged husband, is at pains to understand how things went wrong between them.
At the time we meet Hester, her and Freddie's chemistry is turning parasitic. Freddie seeks solace in a bottle for a life now as aimless as it was exciting up until 1945. For Hester, life has taken a turn into a one-way no-through road, and this is why she has decided to end it all by the gas fire – a gambit that backfires when her neighbours discover her.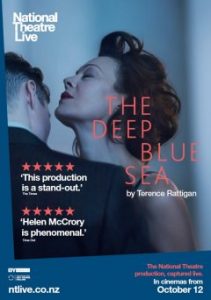 This National Theatre production of The Deep Blue Sea, Terence Rattigan's tragic masterpiece on post-war Britain here directed by Carrie Cracknell, is a stunning achievement. It would be all too easy to relegate Rattigan's play into the category of misery porn, centring on a failed love affair that left a middle-aged woman on the brink of destruction. However, Cracknell's result is not an exploitation but rather a nuanced portrait of a fractured community, wherein Hester is shackled by an expectation of the role society feels she must play. This approach is aided by an interesting decision to enhance the size of the set past the confines of the apartment, rendering the walls translucent and allowing an insight into the world Hester is relegated to and the lives of her neighbours. It might also reveal a little of the concern she has for her anonymity. At times the vast space detracts from the claustrophobic nature of the apartment and its inhabitants, but that is a minor qualm.
The obvious stand-out here is the performance of McCrory, who brings her full range to bear in a famously complex and often witty role. The supporting cast is no less impressive in fleshing out characters with all the wills and desires and faults that one would expect of a lead. Sir William straddles the line between rage, guardianship and infatuation as he maintains an arms-length concern for his one-time confidant. The more enigmatic Freddie, on the other hand, lives in bitter realisation of the oblivion that has greeted him since the world laid arms to rest, rendering his services useless. The biggest revelation, though, comes in the form of Mr Miller (Nick Fletcher), a former doctor guarding a troubled history and with whom Hester finds an unlikely friendship.
In the world that Rattigan creates, no-one is completely good just as no-one is pointlessly callous. These are just people lacking the right words to say to each other. So when the right words finally do come, it is a moment to cherish.
National Theatre Live's The Deep Blue Sea is in cinemas from 8th October through Sharmill Films.