Young Adult fiction has been mined ruthlessly by Hollywood with varying levels of success. For every Harry Potter, there's a Percy Jackson. Some are absolute hits, and others stinkers.
Miss Peregrine's Home for Peculiar Children is another book-to-movie outing, helmed in this case by Tim Burton. His are the right hands for this tale of monsters and weirdness, the collision of normality and fantasy.
The movie opens with a dark and mysterious credit sequence that sets the scene for something rather baroque and intricate. So intricate that it's jarring when we're dumped into a Florida Street, Daytime. The sun is shining and one wonders if the movie projectionist has got the reels mixed up.
In the local Quick-E-Mart, we meet Jake (Asa Butterfield), who's got a job stacking products, and it soon becomes evident he's the quiet kid the others treat poorly. But it's always the quiet ones you have to be careful of, because he's got a grandfather, Abe (Terence Stamp), and a secret. But when Abe dies under mysterious circumstances, Jake is left with only a whispered message, and a book of maps, both of which direct him to an island off the coast of Wales where Abe grew up.
So, the mystery is set up. With some encouragement from Jake's psychiatrist, Dr. Golan (Allison Janney), Jake and his father (Chris O'Dowd) visit the island. It's far from a tourist destination, and to make it look extra dreary, the Teal is turned up to Eleven.
A lot has been said of the now ubiquitous Teal and Orange colour grading in modern movies which isn't worth repeating here. It certainly doesn't detract from Bruno Delbonnel's cinematography, nor from Burton's tale. There is a sense however that the movie could have been darker in places if other choices were made. In Batman for example, Burton used shadows to much better effect. Here, they seem to be largely absent. Take for example the walk through the caves to find the Home. It's a perfect chance to make things creepy, especially in the later part of the movie when the Ornithologist (Rupert Everett) follows Jake into them. Yet they're just too well lit, so it's merely a vaguely lumpy set rather than something dark and foreboding, that has actual depth and visual impact.
Speaking of depth, there's the 3D. Without a doubt, we've crossed peak 3D and are in territory traversed by 1950s B Movies. Nick Cave expressed an opinion in the recent biopic Once More With Feeling which bears repeating here: It's preposterous. Everything visually interesting that you can do with a 3D movie, can be done by a talented cinematographer and some good lenses. Certainly, 3D makes things jump out of the screen at you, but that's a gimmick, like deconstructed coffee. And Miss Peregrine's Home for Peculiar Children could just as easily be watched without it.
Jake's adventures begin in earnest after wandering into the already mentioned well-lit tunnel. He's transported from 2016 back to the early 1940s where the home in question is still standing, rather than a sad derelict hit by a bomb during World War II.
Here he meets Miss Peregrine (Eva Green), a pipe smoking governess to a group of Peculiar children, people with special talents, mutants who represent the next step in human evolution. Ah, sorry, wrong movie. But you get the gist. Patrick Stewart and his wheelchair have been replaced by the rather stylish Peregrine, whose kids have talents which will all play a part in the plot.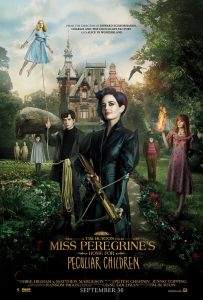 The story progresses in a pretty straight line from start to finish, and while the book undoubtedly contains a little more detail and nuance, the screenplay by Jane Goldman and Ransom Riggs (who also wrote the book) fast-tracks many scenes. The decision to go to the island is abrupt, like it's just around the corner rather than across an ocean, and the scenes with the psychiatrist seem a little contrived. And on the one hand you could say this is perfectly reasonable because there's only so much time for the movie and who wants to listen into a moody teenager being unhappy about the death of his grandfather, when there's monsters and time travel to watch? It's a question of degrees though. Small short scenes in one room with two people can be just as intense as a rollicking adventure. But as this is a movie targeted at a younger audience, perhaps this can be excused.
There's enough detail in Miss Peregrine's Home for Peculiar Children to keep adults and children engaged. Once the story steps past the necessary introduction of Jake's situation, the psychologist, and the Parental Units, the adventure gets interesting. And while it's a well trodden tale of quiet bullied kid makes good, it's still a fun watch.
Miss Peregrine's Home for Peculiar Children is in Australian cinemas from September 29 through 20th Century Fox.