How wonderful it is to praise something with authenticity. With great pleasure I walked out of The Red Turtle, the latest Studio Ghibli production. The film is a serious contender to Spirited Away atop the Ghibli hierarchy and is unique within the revered studio as the first, and so far only, international collaboration.
The director is Michael Dudok de Wit, who at a spritely 63 has created his first feature length film, after being personally asked to do so by Hayao Miyazaki. The now retired legendary director made the request after seeing de Wit's short animation Father and Daughter, which subsequently won the 2001 Oscar for best short film. The result of that request, with over a decade's effort of production, is the dialogue-less The Red Turtle. If this film remains de Wit's only feature it will be enough to pronounce him a genius of cinema.
The film opens on a nameless male protagonist in the midst of a violent grey storm with no context as to how he ended up there. He later wakes dazed and alone on an island of no small proportions. Exploring his habitat he finds a small lagoon with fresh water contained within a condensed bamboo forest. Alone and stranded his cries of frustration are answered only by the sounds of crashing surf and rustling trees. A small chorus of curious crabs spy upon the unusual intruder, punctuating the movie with moments of humour.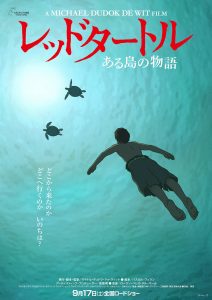 At night the colour dims to shades of grey under moonlight. The film blends the nameless man's dreams with reality and supplies clues to his past. He is haunted by thoughts of escape, in one instance running along a nonexistent pier, later the mirage of an orchestra. In the day he spends his time building rafts to escape, but with every attempt he is thwarted by an unknown oceanic presence destroying his rafts from below. After several attempts he discovers his tormentor to be the Red Turtle the film is named after. Acting upon his rage and frustration the man commits a terrible vengeance, flipping the gigantic beast onto its shell rendering it inert, in danger of a slow death.
At this point the film, which had been a simple yet beautiful sequence of animation, transforms into a spiritual fable that would not look out of place collected within a Hans Christian Anderson anthology. This unique story co-written by Pascale Ferran has a, pardon-the-cliche timelessness quality. It really does. This could have been a story told by Homer or Charlie Kaufman. The character is seized by a metanoia and the film transitions into a deep exploration of humanity, family, forgiveness, loss, fulfillment and love. Without giving away the chimerical plot, the anonymous man discovers an enigmatic woman on the island and the two begin a mysterious and at times deeply moving courtship. The Adam and Eve parable results in a son for the two of them.
The animation style of the feature is not pure Ghibli but does encapsulate styles the studio is known for – small details of nature whose inclusion amplifies fleeting moments of a visual symphony.  This can be as small as a seal sliding into water, enveloped satisfyingly, leaving only a ripple of concentric circles. The expressions of the characters are distinctly un-eastern however. In fact the faces and expressions are purposely uncomplicated within highly detailed backgrounds. This unconventional choice combined with very few close shots gives a blank canvas for a viewer to impose an emotional Rorschach upon the characters.
This is an enriching complete film with a depth of beauty and themes for any viewer to extrapolate from. Each frame is a colorful tapestry of art woven together to create scenes of rich emotion, at times possessing an ethereal fantastical quality. The film is highly allegorical encapsulating humanity and life, asking very big questions within a framework of one man's unusual journey.
The ending, just like many aspects of the film, can be interpreted numerous ways. In either case it is devastatingly beautiful and melancholic. In case this write-up hasn't been emphatic enough- this is a sublime piece of cinema which should not be missed.
The Red Turtle is in cinemas from 22nd September through Transmission Films.