The cast of the new Kevin Smith film, Yoga Hosers looks just like the defense fighting for Johnny Depp in the case filed by ex-spouse Amber Heard. Longer-term partner Vanessa Paradis, their daughter Lily-Rose all support Depp but can't make this film a win for anyone involved.
Yoga Hosers is a spin off derived from the horror/comedy Tusk. In this case what springs more to mind is Clerks. If you like, this is the girl's version about heavy periods, texting and saying the word basic at least 100 times. It can be passable if you believe this is how girls, in particularly, 'Generation Z', act. Termed as the "me" generation, these guys come after the Millennials and are meant to be super comfortable with technology. Through this younger, technology crazed focus, you're expecting Smith to at least challenge these stereotypes and have something more interesting to say, but this is lost in its buffoonery.
Yoga Hosers, simply, is about two 14-year Bff's with the same name: Colleen (Harley Quinn- Smith and Lily-Rose Depp). As the title points out they are into yoga. The hosers part means losers. When the girls are invited to a senior party and have to work the night, the true narrative reveals itself. Enter ancient Nazis tribe and Depp.
Smith can't stop there. Yoga Hosers is like watching an episode of South Park: The Canadian Edition with Terence and Phillips fronting as the main protagonists. You hear the word 'aboot' to signify the Canadian dialect. It is funny at first but you do remember that time when Smith made relevant cinema.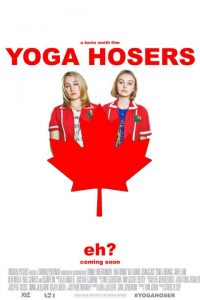 I did enjoy some aspects to this. Aesthetically tying in with Generation Z, Yoga Hosers uses texting sound effects. The Colleens' phones are shown on screen with freeze-framed character bios. Introducing these characters to the narrative to inform us to their ins and outs. But just like snap chat, you have limited time to read this bio. Whether this is intentional or not, I wish Smith had milked these jokes a little longer.
The riot grrrl/cheerleader world is also fun and appealing. For me personally it saved Yoga Hosers from being a complete bomb. Harley Quinn Smith and Lily-Rose Depp nail their Colleens. You really do see charm and conversations from Smith's early catalogue but it really isn't enough. The girls embody a sort of Lolita complex with their cutesy but sexy wardrobe, but without the right intention it does feel a bit sleazy through what will be a predominately a pre-Generation Z, Kevin Smith crowd. Nor is the camera work helpful in this matter.
From the narrative, immaturity and the super indulgent casting, Yoga Hosers is too much. You meet, Tony Hale (Buster Arrested Development), Natasha Lyonne (Orange is the New Black), Jason Mewes (Jay in Smith's back catalogue), Jennifer Schwalbach Smith (Married to Smith and in many of his films) and Kevin Smith himself.
The knee jerking continues. Stan Lee, Haley Joel Osment (the kid from The Sixth Sense) and Austin Butler (Hanna Montana and/or The Bling Ring), plus more. Maybe, just maybe, it's ok for the self-referential stuff but on the topic of yoga please don't get Smith started.
Yoga Hosers is in Australian cinemas from September 15 through Roadshow Films.