Disney's done it again. And I don't just mean killing off the parents in the opening scene (because Disney = #orphanlife). With director David Lowery at the helm they have delivered another magical live-action film that will elicit joy from adults and children alike and that may even bring a tear to the eye.
Filmed in New Zealand, Pete's Dragon is a re-imagining of the 1977 film of the same name. With a few tweaks and noticeably improved effects, the action shifts from the sea to the forest where Pete (Oakes Fegley) has lived with best friend and dragon Elliot for six years. It feels like Mowgli and The Jungle Book all over again. Except this time there's a hint of magic.
Park ranger Grace (Bryce Dallas Howard) doesn't believe her father Meacham (Robert Redford) when he says he once saw a dragon in the forest. Her boyfriend Jack (Wes Bentley) is the site foreman for a lumberjack crew in the area and while onsite his daughter Natalie (Oona Laurence) happens upon Pete. Pete is taken to the local hospital by Grace and co, before making a desperate escape to return home. Meanwhile, Jack's opportunistic brother Gavin (Karl Urban) tracks down Elliot and is eager to capture him as a means of making a name for himself.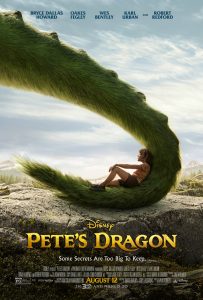 Not surprisingly for a Disney family film, Pete's Dragon is rather predictable. The script – by David Lowery, Tony Halbrooks, and Malcolm Marmorstein – contains the standard Disney formula. The narrative goes where you expect it to and there's a clear place for Pete in a family that – while not quite the typical nuclear bunch – includes mother, father, and sister roles. But audiences know not to expect a game changer and in this film the formula works just fine. (You got me again Disney – I teared up three or four times).
Despite being set in New Zealand the film still feels very American, most likely courtesy of the all-American soundtrack. There's nothing to clearly indicate a time period – it could be set today but there are no sightings of a mobile phone or any other technology to place it firmly in the here and now. However, this adds to the magic and results in a story that does feel timeless.
The main characters are all perfect people bar Gavin, who thankfully is shown to have a human side rather than be portrayed as a flat out villain. He's actually the most human of the lot. The film does succeed, however, in avoiding too much sap, and while it clearly is trying its hardest to make its audience cry and cheer, it does so in a respectable way. Young Oakes Fegley and Oona Laurence are impressive for their age, while Howard and Redford easily win their audience over.
Pete's Dragon is great fun for the family, but be mindful of taking pre-schoolers. While Elliot is friendly he may cause a few scares for littlies, and there are some talky moments that may cause their interest to wane. For older kids and adults it's enjoyable from start to finish. Disney are certainly not going anywhere any time soon with gems like this.
Pete's Dragon is in cinemas from 15th September through Disney.