It's been 12 years since Bridget Jones (Renée Zellweger) graced the big screen, and quite a bit has changed. Bridget returns in Bridget Jones's Baby, following on from Bridget Jones's Diary (2001) and Bridget Jones: The Edge of Reason (2004). With most of the original cast returning, Sharon Maguire is also back as director.
Bridget is now 43, still living in her attic flat, working as a news producer for a cable news channel. She is single, but says 'there's life in the old dog yet'. She is looking good, feeling good, but in need of some male attention. As with the previous films, the film makes a focus of Bridget's birthday – how far she has come since the previous year (or years, in this case). When her usual cast of chums abandon her planned celebrations, Bridget agrees to go on a grown up weekend away with a work mate. Said weekend away turns out to be a music festival; muddy 'glamping', for which Bridget is disastrously unprepared. A few drinks help Bridget ease into the scene, and she finds herself enjoying a wild night with the handsome American internet dating mogul Jack (Patrick Dempsey).
With her man-drought broken, Bridget expects to return to normal celibacy but encounters her dashing ex at a christening the following weekend. Another wild night ensues, with Bridget sneaking away before dawn to prevent further heartache and more failed romance with Mark Darcy (Colin Firth). From here, life should be back to normal. Of course not, it's Bridget Jones. And so enters Bridget's baby. Thanks to her expired eco friendly vegan condoms, Bridget is pregnant. But to whom? Let the hilarity ensue.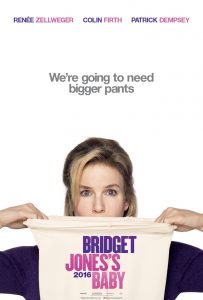 Bridget Jones's Baby is a testament to the popularity of the original films (and Helen Fielding's novel which inspired the initial adaptation) and the interest in Bridget's ongoing story. While this instalment is perhaps not as savvy as the first film, it is still funny and entertaining. Watching the film in a packed cinema, it was nice to be in a situation where women were laughing together. There is certainly a sense of identification with Bridget, in her struggles with her body, to hold onto love, to further her career – all common experiences. The original films tapped into the potential awkward, bumbling insecurity of the female experience with little or no judgement. To be back with the same character, all of us a little older and wiser, is comforting.
There are some small issues with Zellweger's performance – she is not quite as funny as the previous outings. Her performance is not natural in the role, she seemed to be uncomfortable where she was previously very much at home. This makes for quite awkward viewing, but Zellweger seems to warm to Bridget and settles in as the film progresses. Despite early distractions in Zellweger's performance, the film is very funny. While it is not a masterpiece, it is entertaining none-the-less. Emma Thompson (who co-wrote the screenplay) is cast as Bridget's doctor, and gives a wonderful dead-pan performance.   Colin Firth is perfectly pompous and stiff, keeping Mr Darcy true to form. Patrick Dempsey is not quite as good as Hugh Grant in the first two films, but he is an admirable stand in. As an aside, the explanation for Grant's absence is very rewarding.
The film ends leaving potential for further adventures, whether this will happen (and whether this is a good idea) remains to be seen.
Bridget Jones's Baby is in Australian cinemas from 15 September through Universal Pictures.