It's not so much a fault on the documentary's behalf, but I still can't tell you what Scientology is about. All I know is that Tom Cruise is part of it. My Scientology Movie directed by John Dower is a new documentary/film with Louis Theroux as the frontman, who likes to slow down and articulate every word.
I'll be straight. I'm not a Theroux enthusiast. I used to enjoy watching his series but then I began to question the way Theroux would manipulate his subjects and twist and turn their opinions to emphasise his take on the subject. But in this case, My Scientology Movie is a humble and balanced demonstration even for my very cynical eyes.
Having originated from a set of ideals created by the founder, Lafayette Ronald Hubbard, a Sci-Fi/fantasy writer, the Church of Scientology is now home to David Miscavige who originated as Hubbard's cameraman in Scientology training films. The documentary concentrates on the alleged violence under Miscavige's reign, which has led ex members to file lawsuits against the church. They all lost and are now blacklisted. This is where the documentary starts its investigation; Theroux calls in these ex members to hear their sides of the story.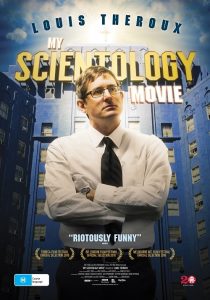 Like any extreme situation or belief, especially when brought to the attention by Theroux, My Scientology Movie evokes an emotional reaction from the viewer. The doco uses Looney Tunes sound effects to characterise the situation and the idiocy of it all. However, if you bear with the silliness you are rewarded with some well-balanced content. The sound arrangement settles, and is not always there to instruct emotions. Former members give credible reasoning for committing to Scientology, to prove they aren't your typical 'dumb' Americans. As it turns out, this is pretty serious stuff. Leaving the organisation is like dealing with a dictatorship. Even though these subjects are now free, being involved in a project like My Scientology Movie and exposing its truths could mean damage to them or their children. Theroux is naturally facetious but does level with these subjects and bring these fears to the camera respectfully.
Without hearing from people like Miscavige or Cruise for a rebuttal, it is hard to get a balanced opinion on the incidents at hand. There has also been an an in-depth two hour look at the Church of Scientology called Going Clear: Scientology and the Prison of Belief. It uses archival footages and testimonies from former members. I haven't seen this documentary but I am told it is very detailed. My Scientology Movie, you could say, is the lighter version. Not to discredit this so-called lightness, but it just depends on how factual or in-depth you want to go. In his usual fashion, Theroux makes this subject digestible and entertaining. It is not about the actual history of scientology or its rituals, but about these former members, from whom we get to decipher why scientology has such a hold on its followers. It does often feel a bit judgy and all too easy to laugh at. It is though, I suppose.
Interestingly, My Scientology Movie does something other than be a straightforward doco. It is structured like a film-within-a-film. You get to watch actual scripted reenactments provided by the former inmates and get a real feel for how things might have been played out. Theroux has cast actors to play Cruise and Miscavige. It is camp and very Jerry Maguire. Adding this filmic production does boost itself up a notch and make it something more than a regular Theroux series. It makes it a feature film.
Louis Theroux: My Scientology Movie is in cinemas for one week only from 8th September through Madman Films.