Foraging and surrounding itself in the forest of the Pacific North West, and with what feels like some notes on River Phoenix's home-schooled upbringing for reference, is Matt Ross' (Gavin Belson in Silicon Valley) Captain Fantastic.
While it does sound like something else, Captain Fantastic is not a superhero spoof but a confronting and biting drama on parenting. Ben (Viggo Mortensen) raises his six children in isolation. Adhering to idealistic viewpoints, the family is home schooled. Living away from civilisation for the past decade, a change circles them as they are now without their mother (Trin Miller). This is of course contextualised when the family has to attend the funeral. Opinions collide on parenting, education, and the health system, thus ultimately allowing for some kind of compromise to prevail.
Captain Fantastic is a straightforward narrative weighted down with themes and emotion. In a way, it is left versus right. Or right versus left. But you do get to spend time listening to both sides. However, it opens with a positively different outlook than your average view of domesticity; this family lives in an organic, free from the cooperate world, stick it to the man sort of environment. Yet, isn't afraid to challenge Ben's parenting, making it hard to follow his lead as the main protagonist. In an equally strong statement as the opening, without giving anything away, the use of silence ends the last sequence tying in everything problematic and progressive in the situation.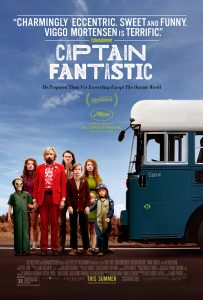 The film does suffer from the odd stereotype. Going back to the River Phoenix vibe and the actor's rather hippy upbringing, one of the younger family members, Jackson (Teddy Van Ee) does look like a heartthrob from the 90s. You can tell straight away he is going to be the rebel of the narrative and he also allows you to predict certain outcomes. The other stereotype resides in the outside and conflicting world that the family comes into contact with. They are your typical gelled hair teenage boys who are immature and play violent video games. Of course when they are paired with Ben's homeschooled daughter Zaja (Shree Crooks), they cannot answer what the Bill of Rights means. Perhaps this is me being fussy as a 'gamer', but I do tend to be quite critical around the way gamers are typecast in film or media, especially when it is posed in a predominately male or violent way.
I hope this is Mortensen's comeback film. It really needs to be handed to him; he is controlled and gives enough warmth to his rather fascist dictating. Ben's eldest son Bo (George MacKay) is also memorable as the conflicting character torn between knowledge and naivety. You can't really fault the rest of the ensemble, but the paraphrasing from Noam Chomsky by the children does feel a little pretentious and much too clever for its own self.
All in all, Captain Fantastic is a colourful and bipolar film. This is deliberate and effective. It does lay down the lines like you were casting your votes on Election Day, but the film is able to blur right from left. It doesn't leave too much of a hindrance or an opinion with you, but at the same time does scream at you. Apart from an odd choice in title that I can't get over, and similarly hearing the song Rebel Girl by Bikini Kill (although I wanted to sing along sometimes), it seems all a bit too easy.
Captain Fantastic is in cinemas from 8th September through Entertainment One.