Amidst a strong year for horror flicks Don't Breathe emerges as a front runner for perhaps the best of the lot. With a relatively untested director, co-writing his own script and casting a bunch of unheard of actors, this film was surely a risky venture. Thankfully though, it pays off in spades. The low production value has forced director Fede Alvarez to make the most of what he has – a great script used in conjunction with excellent pacing and camera work to really get under the skin of any viewer.
The film builds upon the existing framework of in-the-dark claustrophobic horror. Alvarez pens his own chapter on new ways to frighten and entertain. The story introduces three main characters as small time burglars. The motives are sketchy and serve to alienate the characters. It's just about the only tenuous move within an otherwise magnificent film. It's a somewhat risky move for a horror; to limit empathy with your leads potentially minimises any perceived threat later.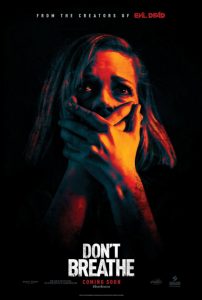 Like all great horrors the best thing to do is go in as ignorant as possible to the plot so I'll avoid giving away too much.  The three young adults motivated mostly by greed and a small touch of altruism plan one big last heist together. Their targeted home is that of a wealthy ex-soldier residing in an empty neighborhood. The cherry on top is that their target is blind, leading them to erroneously believe things can only go well for them. Needless to say getting inside the house is something all three come to rue. Once inside the home, Alvarez sets up a brilliant continuous shot taking the viewer through the home, lingering on certain content and rooms. The foreshadowing isn't a spoiler to the events, but rather something for the unconscious to dwell upon while you are busy being scared out of your wits.
The entire cast gives incredible performances. Stephen Lang as the veteran of the production is amazing as the visionless ex-soldier. With his eerie white blind eyes and mannerisms just watching him get around is sufficient enough to frighten.  Daniel Zovatto, as the douchey wanna-be-gangsta boyfriend, does well enough for a one dimensional character. Dylan Minnette brings a lot to his role, playing the sensitive outsider and voice of reason. But it's Jane Levy who emerges as a substantial talent with her exquisite horror chops. Besides starring in Fede's previous film, the not-as-bad-as-it-could-have-been remake of Evil Dead, Levy's film resume is barren. It seems inevitable we will see more of her (hopefully in one or two more horrors). Her performance in Don't Breathe is reminiscent of Naomi Watts in The Ring. Levy shines both as the strong heroine and conversely the damsel in distress.
Overall this fright fest is ingenious film making. With the events all taking place within the one enclosed location this is suffocating and terrifying in all the best ways. The title is more than apt; there are more than enough moments within the film where as a viewer I found myself unconsciously holding my breath in tandem at moments of peril. Alvarez breaks new ground with his cinematic techniques to replicate pitch darkness. With a myriad of jump scares contained within constant building psychological tension Don't Breathe isn't one to miss for horror aficionados.
Don't Breathe is in cinemas from 1st September through Sony Pictures.