Tom Tykwer's latest film is A Hologram for the King, based on the novel of the same name by Dave Eggers. Although entertaining and enjoyable, Hologram is a far cry from Tykwer's previous works.
Hologram opens with a punchy sequence: Alan Clay (Tom Hanks) reciting the lyrics to The Talking Heads song 'Once in a Lifetime' ('You may find yourself without a beautiful house, without a beautiful wife', and so on) as his various possessions disappear into puffs of purple smoke. Alan is having a midlife crisis, that much is clear. Alan pretty quickly finds himself in the Middle East, where he must broker a deal which his boss clearly doesn't trust him to close.
Alan is to sell the King of Saudi Arabia hologram technology to be used in the under-construction King's Metropolis of Economy and Trade. The Metropolis is to be a purpose built city, state of the art and a modern utopia. Once in the Middle East, Alan becomes the stereotypical 'fish out of water': strange land, strange customs, strange people. Of the strange people, he befriends his driver Yousef (Alexander Black), enlisted when Alan continuously oversleeps and misses the shuttle. Stranger still are the King's representatives, who constantly cancel their meetings with Alan and his team and who house the Americans in a tent alongside their barely utilised offices, in the barely constructed Metropolis.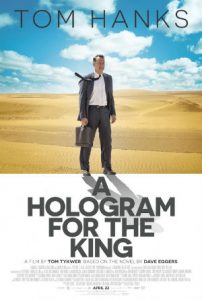 Things are not looking promising professionally for Alan, and personally his life is not much better. A bitter divorce and failing finances mean Alan can no longer afford to pay for his daughter's college fees, a source of emotional ammunition for his former wife. He has a lump on his back which looks like it may house a creature from an all-together different film, and which is a cause of great anxiety for Alan. When Alan sees an enigmatic doctor (Sarita Choudhury) regarding the lump, romance blossoms and hope springs.
As Alan spends more time in Saudi, he comes to be more enamoured with the people and culture. The depictions are stereotype and caricature, and while not overtly offensive, there are some generalisations at play that are troubling. A really interesting past of the world should be depicted as multidimensional, not in such a simplistic fashion.
While Holgram is warm, mildly funny and certainly likeable, ultimately this is a predictable and perfunctory film. Tykwer is capable of so much more, and has delivered in Cloud Atlas (co-directed with The Wachowskis of The Matrix series) and Run Lola Run. To follow up such thought provoking films with one that seems to be going through the motions, a reflection of its lead character, is a slight disappointment.
A Hologram for the King is in cinemas from 25th August through Disney.