Directed by Travis Knight, Kubo and the Two Strings is the fourth animated feature film from the Laika studios. Voiced by Charlize Theron, Matthew McConaughey and Ralph Fiennes, the film is set in ancient Japan. Kubo is a young boy who lives with his mother in a small village by the sea. Kubo's mother is unwell and Kubo must perform every day in the village to earn a living for them both. Kubo tells stories and plays a shamisen which transforms pieces of paper into live origami.
Kubo is blind in one eye. In his mother's lucid moments she tells him stories of his evil grandfather and aunts who stole his eye and killed his father. Kubo must always return home before dark or the aunts and grandfather will find him to take his other eye. When Kubo stays out late one night he exposes himself and his mother, and his relatives find them both. His mother uses the last of her powers to protect him, but Kubo must go on a mission to find his late father's armour to protect himself.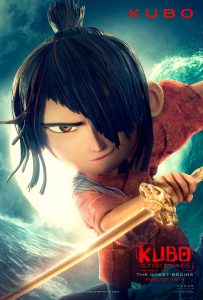 With a monkey and an origami samurai to guide him, Kubo wakes in the snow and must trek across all the lands in his quest. Along the way they meet a beetle who joins the mission. Kubo has inherited magic from his mother which helps him on his way, keeping his evil relatives at bay.
Kubo and the Two Strings feature gorgeous animation, a great use of colour and movement. Seeing the film in 3D is a bit of a waste (depending on the screen) as the glasses are too dark and detract from the vibrancy of the colour palette. The bar is set very high for animation at present, thanks to Pixar and Studio Ghibli. Even lower budget, more amateurish animation is impressive. Kubo punches its weight on the design front; it is beautiful.
The story is quite slow in some places, and doesn't always sustain interest. Perhaps a younger audience are not concerned with this. Many other children's films are made with the awareness that there is an adult in attendance at many viewings, and cater to this demographic in the audience. The Toy Story series has jokes pitched to an ageless viewer, and Up had some lovely messages for grown ups and kids alike. Kubo is lacking in this sense of agelessness, and seems to be catering more specifically for a younger audience.
Although it may be pitched to the kids, Kubo and the Two Strings is gorgeous filmmaking and a relief in an all too adult world.
Kubo and the Two Strings is in cinemas from 18th August through Universal Pictures.