Indignation, based on the 2008 novel by Philip Roth, begins with Marcus Messner's philosophical musings on death. He considers how every choice we make ultimately leads up to our final moment of life. If you're hooked on that, Indignation should prove a treat. But if you're not keen on long patches of dialogue, it may not be your cup of tea.
Set during the Korean War in 1951, Marcus (Logan Lerman) is a freshman at Winesburg College, Ohio. Keen to escape his increasingly over-bearing but well-intentioned father (Danny Burstein) he arrives from Newark, New Jersey, and finds himself in a dorm with two Jewish students. While he is from a Jewish background, Marcus is an atheist, and strongly objects to the course requirement of regular attendance at chapel. He is soon transfixed with one of his classmates, the mysterious Olivia Hutton (Sarah Gadon) and is caught off guard by her daring nature.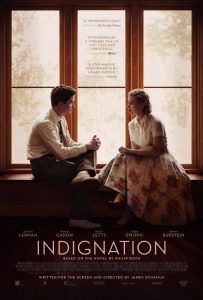 Indignation is a film that stands out from the pack of films that focus on the college experience. While those set today seem to reflect college as a means for sex above all else, those set in the past often portray a period of innocence. Indignation is a satisfying combination of the two – liberating for the time period, but without descending into a mass orgy. Marcus' initial reaction to Olivia's sexual prowess firmly roots the film in the 1950s conservative mindset, but we soon find he's much more liberal than most.
The film's best scene involves a clash between Marcus and Dean Caudwell (Tracy Letts) in the Dean's office. Caudwell is arguably one of the scariest types of authority figures you could encounter, especially because he acts so genuinely nice for most of the conversation. He seems to admire and care for Marcus, while shooting him down amongst the accolades. It's a long scene and extremely dialogue-heavy, but it makes for fascinating viewing. It's intelligent but not isolating.
The performances are all on point. Internet whingers claim Sarah Gadon is too old to be playing a freshman at 29, but have they ever seen a teen movie? It's the done thing, and I doubt they'd be complaining if she were a guy. She's glorious as the intriguing Olivia, a far cry from her role as Queen Elizabeth in last year's A Royal Night Out. The film is really Logan Lerman's however, and he brings an earnestness to the role which makes it easy to root for him. Tracy Letts is unsurprisingly wonderful as Dean Caudwell, and Danny Burstein and Linda Emond as Marcus' parents are heartbreaking in their frankness.
Oscar-nominated producer and writer, James Schamus, makes his directorial debut here, and his efforts indicate that he is indeed an all-rounder in the film world (he also adapted the screenplay). Indignation feels very much like a play in parts, but that's not to say it isn't worthy of the screen. The dialogue is rich and covers important ideas about identity and values in 1950s America. The ending feels abrupt in a sense, but then such is life. Indignation won't lift the spirits but it provides plenty of food for thought.
Indignation is in cinemas from 18th August through Roadshow Films.