Neruda is a warm and funny film, with gorgeous careful editing which serves to meld together fantasy, delusion and a 'reality' of sorts. Director Pablo Larraín and writer Guillermo Calderón have used the life of Chilean poet Pablo Neruda to inform and inspire their film, but this is far from a realistic biography of the artist's life. Instead, the filmmakers have taken inspiration and run with it.
It's 1948 and Pablo Neruda (Luis Gnecco) is a poet, senator and active member of the Chilean communist movement. While Neruda does not live within the usual restrained piousness expected of communism, he espouses the virtues and inspires his comrades and the nation. More of the 'champagne socialist', Neruda lives a life of excess with his gorgeous Argentinian wife Delia del Carril (Mercedes Morán). She is an artist and an aristocrat, educated in Paris, and also a rather contrary communist.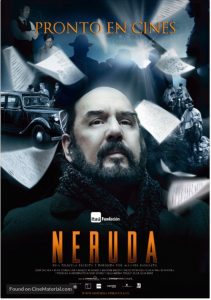 When the president (Alfredo Castro) declares war on communism, Neruda becomes the chief target and is impeached by the Congress. After trying to leave the country, Neruda and Delia must go into hiding and their Epicurean lifestyle comes to an end. They are aided by fellow communists, who house them in their own modest homes. The president deploys a young detective named Oscar Peluchonneau (Gael García Bernal) to hunt out Neruda. Peluchonneau has narrated the film from the beginning, and to finally meet him is revealing.
Peluchonneau and Neruda play a game of cat and mouse, with Peluchonneau only ever a few moments behind Neruda. This is partly because Neruda is enjoying the attention of his infamy and disgrace, and has taken to toying with the bumbling Peluchonneau as his new hobby. Peluchonneau is mildly idiotic, making him the perfect counterpart to Neruda's wit and charm.
Neruda makes shifts from frank realism to delusion and fantasy. Peluchonneau starts to see himself less as an intrepid, dogged detective and more as an invention of Neruda's fanciful ego. Neruda leaves a trail of detective novels for Peluchonneau to find, serving to leave the young man feeling more and more like a creation of the poet.
This is a beautifully warm and funny film, expertly shot by Sergio Armstrong and sublimely edited by Hervé Schneid (who also edited Amélie). Director Larraín has elicited wonderful performances from all the cast. Gnecco and Morán seems to have a genuine affinity as Neruda and Delia, and they are perfectly countered by García Bernal. García Bernal brings something inexplicable. Support cast are all well rounded and complete as characters, often a feat in a film of this nature.
By fusing some accuracies of Neruda's life, while inventing a persona for the purpose of this film Larraín has produced an original, inventive and inspiring film. Neruda is a welcome experience, as a film which is perfectly executed and yet knows not to take itself too seriously.
Neruda screened as part of the Cine Latino Film Festival from 17th to 31st August 2016.
Neruda is in cinemas from 25th May through Palace Films.