Moor (Mother) is a compelling family exploration that screens as part of the Indian Film Festival of Melbourne. Pakistani director Jamshed Mahmood Raza, who is better known as Jami, tells a story rich in sentiment and aural synergy.
Set against the closure of the Pakistan's Balochistan province, a grieving, retired father Wahidullah Khan (Hameed Sheikh) must battle the government and his own brother Zahir (Shabbir Rana) in a land dispute. The story also studies Ehsaanullah (Shaz Khan), Wahidullah's son, through his journey of leaving his former rural home in Khost, to the metropolitan city Karachi. In what becomes an easy market, Ehsaanullah operates a business of making fraudulent visas.
But true to its title, Moor revolves around the passing of Palwasha (Samiya Mumtaz), mother and wife of Ehsaanullah and Wahidullah. Palwasha's presence remains in the film as a spiritual guide to these main subplots and her own journey to reunite the family and land back.
Perhaps a lack of knowledge on Indian cinema and its subgenres results in not fully embracing this film. The ensemble will be new to many Western viewers and without having any familiarity this left this reviewer a little stifled. Fortunately the cast does show poise and ease, welcoming Western eyes to something new. Apart from some caricatures like heavy eyebrows and moustaches or the confusing time lapses – the narrative tending to sway between past and present haphazardly – the film's energy and passion certainly lets you forgive these technicalities.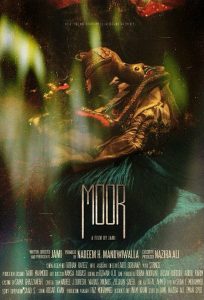 Speaking of Jami and Moor in general, you do get a voice for the film's activism through the use of music and texture. This is emphasised in Jami's background in musical directing. The choice of using Pakistani rock band Strings, who are known for their synthy, poetic new wave rhythms, really connect the right emotions at the right time. This demonstrates the power music can often have over words.
Farhan Hafeez's cinematography is equally proud and passionate. Hafeez illustrates two different landscapes integral to Wahidullah and Ehsaanullah situation. The vast rich countryside in Khost is exotic and compliments traditional Pakistani values. Not to mention, feminine power.
The land belongs to Mother Nature, a metaphor whereby women run and nurture the household. While in the modern world of Karachi, things are faster. Its players use Facebook, mention Bill Gates and have a Koran app, not the hardback edition. The tone is sleazy and neon, seducing and blinding. Although this presentation is a little technophobe and extremely Western, Jami hones to its audiences that this is not the world you want to live in. At this point, this reviewer would have liked to have seen a happy medium presented, not one that simply states that metropolitan life leads to corruption.
In the end Moor is a powerful film. It should be commended for its voice and strength. Its lessons in corruption and destruction, blood and family do let you forgive the film's stereotypes and ridged commentaries and take on the activism that the film promotes. However, it is a little on the long side and you do get to a point when you have figured it out, but are still blinded by its personality.
Moor screens from 11th to 21st August at the Indian Film Festival of Melbourne.