For the Love of a Man is a charming slice of life account on fandom with a focus on the state of Tamil Nadu (which makes up the 29th state of India). This is the second documentary by the Indian/Dutch director Rinku Kalsy. It came out of the 71st Venice International Film Festival and now screens as part of the Indian Film Festival of Melbourne.
In the version seen by this reviewer the subtitle typography is a real struggle. For people who need to read the subtitles, you are provided with the most horrendously thin and faded font. Some words may be missed due to them being impossible to decipher.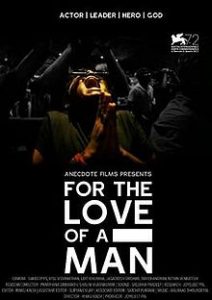 For the Love of a Man uses a hand held camera, which is often chaotic. This is shown through the male fans that make up the documentary. The fans spawn social gatherings on the streets and proudly show their support for a man called Shivaji Rao Gaekwad, known more commonly by the stage name Rajinikanth. Aside from being a former bus conductor, Rajinikanth is currently one of the highest paid actors in Asia. His trademark gesture, although smoking is frowned upon, is flipping a cigarette in the air and catching it in his mouth, but Rajinikanth is not a teenage rebel like James Dean. He is something more to the people; he is a moral idol, politically, socially and artistically. It does seem strange then that in For the Love of a Man, apart from one brief scene, you do not see or hear from the man himself. Some answers from Rajinikanth as to why he might be hailed and respected as an idol or how he deals with his fame would have given this doco more authenticity and true weight. Not to mention a nice association Rajinikanth could have given the community and the film itself. Of course, it is hard to say why this is not addressed; it is just a little bit dissatisfying.
This documentary is told through four chapters. It concentrates on the different ethics and situations these fans are in or had been in prior to coming together and honoring Rajinikanth. In these four chapters, come four characters. One is a Rajinikanth impersonator Kamal Anan, and another is G. Mani, a former gangster who now owns a peanut shop. N. Murugan and N. Ravi are two sweet shop owners.
Coming from Kalsy's female perspective, it is interesting that this is such a male dominated focal point. Women are behind the scenes. This is not so much a conscious decision, but perhaps the truth. The women, who make up some of the fans' lives, tell their stories, definitely impinging the film's uplifting vibe. The fans believe through dedicating time and money to show their love for Rajinikanth it will enrich their lives and moral choices in the long run. In home life money is not provided, there is a case of domestic abuse, and generally women are shunned from these celebrations. As it is addressed only towards the end, it may easily have been tacked on, but Kalsy naturally lets the viewers speak for themselves and doesn't frame the subjects in an angle to suggest that they are disadvantaged.
Kalsy's piece is thoroughly enjoyable and refreshing. Even if some of the words are missed, to be part of a community so invested in cinema and to see how an actor like Rajinikanth can bring hope to a community is really quite phenomenal.
For the Love of a Man screens as part of the Indian Film Festival of Melbourne from 11th to 21st of August.