The largest city in the Gujarat region is Amdavad. In the west of India this massive city is the home of kite flying and making and on January 14 of each year 'Uttrayana' – the annual kite festival – begins. It's here that we meet Zaid, a boy of eleven who lives and breathes everything to do with kites and the flying thereof. "How many kites can you fly in a day?" he's asked near the beginning; with eyes wide with pride he responds "As many as you can give me!"
Directed and edited by Hardik Mehta, this charming short film of only thirty minutes is an excellent slice of life which manages to put on screen life in an Indian city with both humour and a small slice of pathos. Arriving in Australia with 2016's Indian Film Festival after winning Best Non-Feature Film at last year's National Film Awards (the ceremony honoring Indian cinema) this film tells the life of a young boy which takes place in a city of 7.2 million, in the middle of a single region of 63 million (nearly triple the population of the whole of Australia) in a nation of 1.3 billion.
With content which is quite reminiscent of The Kite Runner but not nearly as emotionally stark (then again, not many things are) Mehta's film captures its subject with lovely work by cinematographer Piyush Puty and perfect music by Indian composer Alokananda Dasgupta.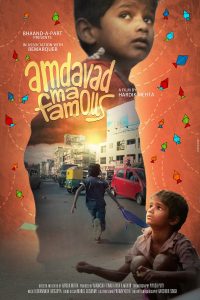 Thematically it captures that amazing time in life where you first gain enough freedom to explore the world around you but still have the kind of youthful naivety for it to be exciting and new. Seeing what the children in Amadavad get up to is, for those of us who live in our neat and city corner of the world, quite startling. Children as young as nine climb along buildings and jump across rooftops looking for the perfect places to fly kites in scenes that look reminiscent of the climbing from the Assassin's Creed  games.
Where this short documentary really shines is in the juxtaposition of character and setting. Zaid is as charming as you could hope for to lead a film of this sort; he's cheeky, dedicated to what he loves, and seems very comfortable being on camera. He could be any boy his age: youthful, naïve and energetic. What makes it quite startling is seeing the abject poverty around him. The city of Amadavad is covered in string left over from the kite festival, children and traffic drift past open sewers, and the whole area is drenched in thick plumes of smog.
Everyone likes to think they know what living in poverty would be like but it's worthwhile for those of us fortunate enough to live in the developed world to have the occasional slap across the face when presented with the reality of those on the lower rung of society. This is far from the focus of Amdavad Ma Famous, which is about a boy and his passionate love of flying kites, but it's still a strong line of nuance to this charming little film.
Screening as part of this year's Indian Film Festival, this is a short film with beautiful images, boundless optimism and charm – All the things that make for an excellent short documentary.
Amdavad Ma Famous screens as part of the Indian Film Festival of Melbourne from 11th to 21st of August.