The official submission from Brazil for the 2016 Oscars for Best Foreign Film is the work of writer/director Anna Muylaert, The Second Mother. In Sau Paulo Val (Regina Case) works as a live-in nanny for a rich family. Her life is consumed by domestic activity and mothering the family's only son Fabinho (Michel Joelsas) who reciprocates with genuine affection. Her work is appreciated, but the family, and in particular uptight matron Barbara (Karine Teles), take Val herself for granted. The delicate power balance and social stratum is unhinged when Val's biological daughter Jessica (Camila Mardila) comes to live with her mother to apply for a prestigious university course.
The film is filled with moments of unspoken power disparities that throw into the spotlight Brazil's unbalanced class system.  Layered beneath mundane conversations and menial tasks is a simmering tension, present even when both parties are ignorant to it. The first moments of Jessica's arrival are fraught with uncomfortable gaucherie. Everything from where she sleeps, to the food she eats are silent topics of contention for Val and Barbara, who are both held at the mercy of Jessica's seemingly innocuous requests. In one particular scene it's almost excruciating to watch Jessica accept a bowl of the expensive ice cream ordinarily reserved for the privileged Fabinho.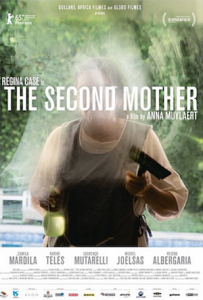 Inevitably Jessica begins to rebel against the barriers placed upon her. Things come to a head when she is playfully thrown into the ostentatious family pool by Fabinho and his friend. Making quite a scene the embarrassed Val fishes her out at the behest of Barbara.  Later Jessica storms out to the streets, unable to bear another moment of being treated as second class and likewise embarrassed by her mother's kowtowing. The generational differences are pronounced. Self-sacrificial Val is content not making waves from her stagnant class status, whilst vivacious Jessica represents the striving of Brazil's youth towards meritocracy and a more egalitarian society.
Any scene with binary opposites Val and Barbara (which is a decent chunk of the film) is riveting. Both actors are standouts in a very solid cast. Barbara is materialistic and supercilious but not in a cartoonish manner. Val is deeply loving and the camera captures the subtle mannerisms Regina brings to her character. She compulsively rubs her hands through Fabinho's hair, listens to him lamenting his virgin status, then spoons him to sleep when he is restless. It's very tender stuff and asks questions of what it is to be a mother. In these moments the film alludes to a huge power entirely of Val's own amidst a microcosm of tiny displays of power.
At its strongest the film is a scathing social commentary while paying tribute to a woman's capacity for love. At its weaker moments the film forces some blunt analogies and when it strays from its central themes the viewing can become somewhat tedious. A weird relationship between Jessica and Barbara's husband Carlos (Lourenco Mutarelli) appears to be written as an afterthought and really doesn't service the film well at all. The Second Mother won't be the most fast paced film of 2016, but all the better for a movie which shines in unspoken moments.
The Second Mother screens exclusively at Cinema Nova from 28th July through Madman Films.