After a nine-year hiatus, he's back. Jason Bourne, directed by Paul Greengrass, is the direct sequel to The Bourne Ultimatum, with the screenplay by Greengrass and Christopher Rouse (also on editor duties) and Matt Damon reprising arguably his most famous incarnation. The film picks up a few years after Ultimatum and Bourne's search to uncover further details about his identity. It also engages with particularly contemporary concerns about the role of public information gathering and breaching personal privacy to defend national security. Boasting masterful editing and some riveting action sequences the film continues the Bourne trilogy's technical prowess in generating sustained tension. In this sense, the film is a polished action-thriller. However, it does not really bring anything new to the table, and this prevents it from being an unqualified triumph. Nevertheless, it is solidly executed and thoroughly engrossing, and should still appease audiences.
Bourne has been hiding out, aimless and seemingly adrift, earning money in bare-knuckle fights. Former CIA operative, and regular in the trilogy, Nicky Parsons (Julia Stiles) has been on the hunt for more answers behind the CIA's 'Treadstone' program, and has uncovered a new program called 'Ironhand'. She endeavours to find Bourne and provoke him to continue probing into his past, especially concerning the ambiguous role his father may have played. The CIA and its director Robert Dewey (Tommy Lee Jones) are soon alerted to Bourne's resurgence, with computer expert Heather Lee (Alicia Vikander) helping in the manhunt whilst harbouring her own agenda. Meanwhile, Dewey is keeping tabs on Aaron Kalloor (Riz Ahmed), founder of social network Deep Dream, who is about to launch a new revolutionary initiative.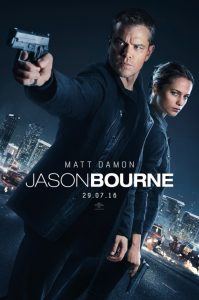 Despite the long absence Damon settles right back into Bourne's rhythms with ease, only now he is more noticeably jaded and worn down. With apparently only around twenty-five lines of dialogue in the screenplay Damon still largely succeeds in evoking a compelling brand of brooding and insular, and the dearth of lines is not readily noticeable. The other stand-out performance comes from Vikander as the young and ambitious cyber-specialist. She is almost as inscrutable as she was in Ex Machina, but here is tinged with a pragmatic, calculative mystique, and she is eminently watchable.
On a more technical front, many of the elements handled with such flair and control in the initial trilogy are again solidly executed. Under Greengrass' direction the film is a continuation of the trilogy's deft blend of breakneck speed and measured composure. With its almost ruthless rhythms Rouse's propulsive editing is central to this, seemingly erratic and disjointed and yet utterly controlled. Two particular scenes are reminiscent of the most gripping parts of the trilogy – the manhunt for Bourne and Parsons amidst increasingly chaotic anti-austerity demonstrations in Greece and the car chase scenes along the Las Vegas strip.
And yet, the film does not really offer up something to justify greatness in its own right. Whilst new for Bourne, its debates around personal privacy and personal safety are not handled or explored with any particularly novel insights. Additionally, the combination of this sub-plot with the one revolving around Bourne delving further into his past never really coalesce smoothly. In the end, Jason Bourne is skillfully composed and highly entertaining, but falls short of carving out a compelling new direction for the series.
Jason Bourne is in cinemas from 28th July through Universal Pictures.