Set in the dense Amazon rainforest is Colombia's entry for Best Foreign Film at last year's Academy Awards, Embrace of the Serpent. Based on the diaries of real-life ethnologist Theodor Koch-Grunberg (Theo) and biologist Richard Evans Schultes (Evan), director Ciro Guerra, who wrote the screenplay with Jacques Toulemonde Vidal, has created an immersive portrayal of the tension and conflicts between indigenous peoples and encroaching European interests. However, while the film indicts the destruction that Western influences have wreaked upon indigenous communities, it also manages to eschew overly simplistic archetypes, paving the way for some intriguing and engaging interactions. The result is a unique viewing experience, straddling a strange middle ground between historical account and bewildering dream.
The film is structured as two related narratives which unfold side-by-side. Both involve an indigenous man named Karamakate, the last surviving member of his tribe, and the search for a rare plant called yakruna with purported healing powers. In the first plot, a sickly Theo (Jan Bijvoet) and his local guide enrol the help of a young Karamakate (Nilbio Torres) to find the flower and cure his illness. The second plot takes place thirty years later, when an older Karamakate (Antonio Bolívar) encounters Evan (Brionne Davis) looking for the same flower. In the entwined plots they encounter various people: Catholic priests running missions, false messiahs, other indigenous communities, Colombian soldiers. In the confrontation of two completely different cultures these interactions also gesture broadly towards landscapes and peoples on the cusp of irreversible change.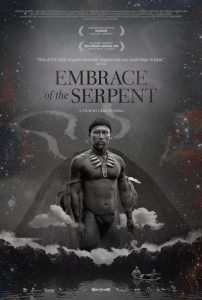 What is most distinctive about the film is its mood. Patient, contemplative and serene, the film unfolds at its own measured pace and rhythms. It manages to create a seemingly contradictory balance between sobering detachment and unsettling, hypnotic dream. These incongruous tones perhaps parallel the experiences of the characters themselves: their encounters are variously alienating, disquieting, even nightmarish, lending themselves more often to feelings of distance as opposed to understanding. This is particularly the case for Karamakate, who, as the last of his tribe, feels an estranging loneliness in realising that his tribe's past and future are inextricably bound to his own mortality.
David Gallego's black-and-white cinematography beautifully complements this. It is stunningly arresting, capturing the alluring, dangerous beauty of the Amazon rainforest with startling clarity. Filming in black-and-white has its obvious appeals, such as portraying the film as a conventional 'historical' narrative. But it also serves more nuanced ends, blurring lines between reality and reverie and allowing the 'grey' to emerge, resulting in a film which successfully strikes a balance between being both fervently emotional and strangely cerebral in bringing its source material to life.
Overall, Embrace of the Serpent is quietly absorbing and richly realised, and ultimately refreshing in its portrayal of this period in history.
Embrace of the Serpent is in cinemas from 28th July through Palace Films.