After the immense success of John le Carre's The Night Manager earlier this year on the small screen, following on its heels is Susanna White's large-screen rendering of Our Kind of Traitor. The tale of an unsuspecting British couple drawn into a web of intrigue when holidaying in Marrakesh, this latest adaptation has much in common with The Night Manager: an affluent but ruthless criminal underworld deeply rooted in the world of high finance; a glamorous itinerary encompassing mountains, desert and everywhere in between; an MI6 officer forced to go it alone; and a handsome bystander thrust into centre of the storm. It's pure le Carré. It's slick. It's polished. But unfortunately, polished things can often come across rather cold, and despite the stellar cast's best efforts, this is the fate of Our Kind of Traitor. 
Perry (Ewan McGregor) and Gail (Naomie Harris) are a broken couple trying to staple it together with a romantic getaway to Morocco when they are befriended by Dima (Stellan Skarsgård), a chief money launderer for the Russian mafia. He's not exactly the kind of person Perry or Gail want to be making friends with, but he's also not the kind of person you can say no to lightly. Such is the dilemma when Dima asks Perry to deliver classified information to the British intelligence services. Perry assumes that if he doesn't know what he's carrying then his involvement will end on delivery.
You silly man. That's never how these scenarios play out.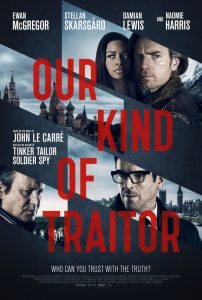 With a screenplay by Hossein Amini, this film on first glance has nothing immediately wrong with it. The story is coherent and well explained without, for the most part, being too obviously expository.  Flashes of humour lighten a film that could be drawn too deeply into the intrigue, pulling back from the plot at times to consider the human element. Importantly, Skarsgård is clearly having a ball as the over-confident Dima, and McGregor looks convincingly confused for much of the film. However, the fact that they generate more chemistry than Perry does with Harris's Gail speaks something to her undeveloped character. As a story about Russian mobsters and governments playing funny buggers with the private sector to their own ends, it's a neatly plotted piece of cinema.
And yet the best that can be said is that this is a good film, no more than that. There is inherent disappointment from the fact that the tension the scenario so desperately wants to create never arrives. It may be that Marcelo Zarvos's score is too earnest in punctuating each key moment beyond doubt. Perhaps the camera lingers too long on something too menial to be significant if it weren't about to blow up.
More probably however, it may come down to some of the central characters not being allowed to develop sufficiently to make us care what happens to them. Nima's wife and family barely get a word in the whole film. Damien Lewis's MI6 agent, Hector, is so British that it's hard to take him seriously or believe that he could be acting in anyone's but his own interest. Unfortunately it is this gap between some quite strong characters and their mere 'plot device' acquaintances that leaves Our Kind of Traitor merely good and never great.
Our Kind of Traitor is cinemas from 14th July through Studiocanal.