Hiding behind the ironically bland title Love & Friendship is a whip smart, witty, lovely acted Jane Austen adaptation; one of the best on screen and featuring the author's finest comic creation. Adapted by director Whit Stillman from Austen's epistolary novel 'Lady Susan', the film features an undoubtedly career high performance from Kate Beckinsale as the titular lady.
Stillman made his name in the 90s with three 'comedy of manners' movies, including 1998's The Last Days of Disco, starring Beckinsale and Chloë Sevigny, and here he reunites with the actors and returns to the genre. The film concerns the machinations of Lady Susan Vernon, recently widowed and out to maintain her lifestyle by finding both a match for her daughter (Frederica) and one for herself, all while carrying on a relationship with a married man. With a reputation as the "most accomplished flirt in all of England", Lady Susan is forced to leave the Manwaring estate after a dalliance with the Lord, and heads to her brother-in-law's country house. Here she uses her charms on the young, rich and handsome brother of her sister-in-law, while trying to marry Frederica off to bumbling (but rich) dolt Sir James Martin (Tom Bennett).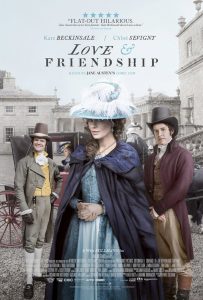 Perhaps more than a comedy of manners on 18th century English upper classes, Love & Friendship is a portrait of the most delightful sociopath ever committed to screen. Beckinsale elevates the film with her intoxicating portrayal of the brilliantly smart, captivating but scheming, thoughtless and all-round terrible person of Lady Susan. Though ably assisted by the ensemble cast (including Australian Xavier Samuel and a masterfully funny turn by Bennett as the foolish Martin), this is Beckinsale's film.
Perfect locations and stunning costumes, along with simple and uncomplicated camera work allow the focus to stay on the wonderful actors and script. Credit must go to Stillman for his excellent adapted screenplay, almost Wildean in its verbal dexterity, who's taken a clear love for the source material and turned it into an accessible, fabulously funny gem. Like Lady Susan, it's impossible not to fall under this film's spell.
Love & Friendship is in cinemas from 21st July through Transmission Films.