It's a pleasure to go into Dan Kwan and Daniel Scheinert's Swiss Army Man and see recognisable actors in different roles. Daniel Radcliffe has been spanning versatile characters in film and theatre for a few years now, but naturally he is best known for Harry Potter. Paul Dano can add to this. Although he has appeared in Paul Thomas Anderson's There Will Be Blood, one role that stood out earlier is his mute character Dwayne in the indie comedy Little Miss Sunshine. Now, as a pair, they are shaking off these former character liaisons in some striking situations.
Winner of the Sundance directing award, Kwan and Scheinert have created something unique in Swiss Army Man. Straightforward enough, the film fits into the buddy genre with the bromance of Butch Cassidy and the Sundance Kid and the survival suffering of The Revenant. Stranded on a deserted island, Hank (Dano) is about to kill himself. After he finds a very flatulent body (Yes really!) named Manny (Radcliffe), his discovery leads to adventures and self discovery; one must endeavour to learn about the past in order to see the future.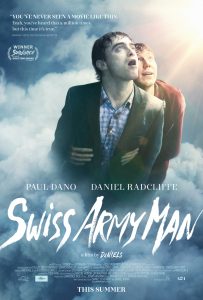 Coming from a music directing background, Kwan and Scheinert have worked with the likes of Battles, Foster the People, and The Shins. This is shown confidently through the kinetic composition and the rich soundtrack comprised mainly of Dano and Radcliffe's vocals. Although its style at times looks like one of those crafty instructional or cooking videos you see on Facebook, featuring jovial and all too easy DIY aesthetics, Hank and Manny craft their own stories and fill in missing memories with the leftover trash from the island. The textures are inventive and illustrative, aiding the characters' backstories and proving it's more than a cheeky aesthetic. If I had to make some sort of criticism here, perhaps in time, this style will be seen as passé. For example, Ang Lee's Hulk is a very conscious looking film, where comic panels are sliced into the narrative, but now, I see this looking like a disruption rather than showing creativity.
But Swiss Army Man is a buddy film and this is proudly restated through the adventure and exploration of the island. Dano and Radcliffe are solid, playing likeable yet frank characters. Their friendship teeters into episodes of comedy and existentialism. Feeding off each other's childhood trauma and current status, Swiss Army Man delivers a nice balance and believability to their quest. Although it is not an overtly harsh masculine type scenario to begin with, it is softened by their mateship and intimacy, not to mention the actors themselves. It is endearing and accessible to all.
You do spend a lot of time gawking at Swiss Army Man like you did in The Revenant. The world of the film enables its characters to inhabit the land and each other. Swiss Army Man is humble though. Quite different to The Revenant, it is not there to instruct its beliefs or be a contender in the Oscars. What it does bring is laughter and plenty of it, and it allows the viewer to fill in the gaps if that's what they wish to do. But it wouldn't be right not to mention the copious but alluring fart jokes that make Swiss Army Man a thorough enjoyment and statement like no other.
Swiss Army Man screens exclusively at Cinema Nova from 14th July through Madman Films.