One of last year's Academy Awards Best Foreign Film nominees was Mustang, a stirring portrayal of the yearning for freedom against the constraints of gendered social expectations. Directed by French-Turkishwoman Deniz Gamze Ergüven in her first feature film, and with a screenplay by Ergüven and Alice Winocour, the film focuses on five teenage sisters who become increasingly isolated from the world, as they are ushered against their wills, one by one, into arranged marriages. As they transition from carefree childhood to the confronting realities of adulthood, the film's ensemble cast, and Ergüven's firm direction, conjure rousing moments of tender intimacy and indignant defiance amidst the more pervasive strains of pathos and powerlessness.
The film takes place in a small village in Turkey. After the youngest sister Lale (Güneş Şensoy) bids a tearful farewell to a teacher who is leaving for Istanbul, she, her four close sisters and some other school friends, including some teenage boys, decide to play at the beach. Their seemingly innocent time with some friends is soon misinterpreted and exaggerated by an older, conservative neighbour, and word spreads about allegedly indecent behaviour. They return home to find their grandmother (Nihal Koldaş) and uncle Erol (Ayberk Pekcan), their legal guardians after their parents died some years ago, convinced that granting them continued latitude may taint their chances of finding husbands. Thereafter, the girls are confined to their home, in order to be 'schooled' in how to become housewives. They find solace in each other's company and in small acts of rebellion, but as the lengths taken to enforce their imprisonment become more extreme, resignation and desperation soon take hold.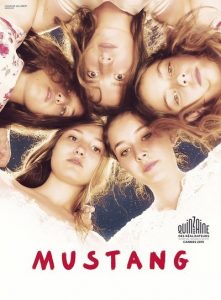 Each of the girls is generously given their own individual sub-plots, and it is a credit to the screenplay and the performances that each feels like a distinct characterisation. Nevertheless, the film is told primarily from Lale's perspective. Naturally the most outspoken and stubborn, she embodies the fiercest resentment; she witnesses each of her older sisters being groomed to be married, and the sense of suffocating inevitability about what is in store for her spurs her to take desperate measures. However, the intermittent voiceover from Lale is perhaps unnecessary – it feels underused, too sporadic to constitute a consistent narrative device. In any case, Şensoy's central performance is more than enough to convey the film's themes and tone.
More generally, Erguven adeptly balances and blends several different moods effectively. In its scenes of rebellion there is a lightness and levity that befits the carefreeness of youth, but this soon succumbs and gives way to a dark, disconcerting mood invoked by, sometimes only implied, acts. Importantly, she steers clear of overly dramatic renderings of her characters' plights, and is at times even shockingly restrained in her portrayal of particularly harrowing events. Her approach is movingly complemented by Warren Ellis' score – wistful, longing, evocative, but never overbearing, never drawing too much attention to itself. Overall, Mustang is a sobering and poignant portrayal of youth on the cusp of adulthood, and the powerlessness and attendant struggles for freedom that come in the face of stifling social impositions.
Mustang is in cinemas from 23rd June through Madman Films.