Mr Gaga is a documentary from Israeli filmmaker Tomer Heymann, about the renowned choreographer and dancer Ohad Naharin. Heymann blends footage from Naharin's own personal archives, from the archives of the Batsheva Dance Company where Naharin is artistic director, and footage he and his crew have filmed. The result is an incredibly beautiful and moving film, which gives insights into the creative process, dance and movement, and the life of an unusual man.
Ohad Naharin is a dancer and choreographer, celebrated for his works with Batsheva, but also for his work with the 'Gaga' movement he himself developed. His dancing has taken him all over the world, and his works are highly regarded and influential. Naharin entered dance relatively late in life; he was 22 when he first started to train in classical dance with both Julliard and the School of American Ballet. Most dancers are hard at it from very early ages; Naharin is clearly an anomaly in what has seemingly been a very regimented stream of the arts.
Heymann's documentary gives an overview of Naharin's life, from his childhood in an Israeli Kibbutz, to his life in New York, and then his return to Israel to head the Batsheva school. Naharin provides commentary for much of the film; he is witty and funny in relating his experiences.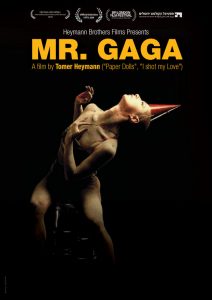 Heymann spent eight years making his documentary on Naharin, reportedly canning several earlier versions of the film during that time. The final version is quite an accomplishment, achieving a fine balance. Naharin is clearly a private and reserved man; it would seem he prefers to save himself for performances and for instructing his students. It is apparent that a bond of trust has formed with Naharin and Heymann, as the subject seems to accept the exposure that working with the filmmaker will bring.
Mr Gaga is a simply beautiful film. The dance sequences are exquisite; Naharin and his colleagues and students are clearly exceptional examples of their profession. They are physically strong and their performances are breathtaking. Naharin has a gorgeous sense of humour, which implies that he doesn't take himself, or anything else, too seriously. Clearly this is not the case, as he also demonstrates exacting standards in both his own performances and that of his students, all the while remaining gentle in his demeanour.
A Q&A session with the director after the screening of Mr Gaga provided further insight. Tomer Heymann is an interesting person in his own right, who has brought something special to the film himself. The warmth and compassion he has for his subject is apparent in the careful assembly of every frame. After eight years and several versions, Heymann must have his own exacting standards, the result of which are a sublime piece of documentary filmmaking.
Mr Gaga screens as part of the Hot Docs festival from 14th June to 3rd July. It will also screen at Cinema Nova from 30th June.