A few years after the Global Financial Crisis and amidst the circus of the upcoming US Presidential election, director Jodie Foster's Money Monster attempts to tap into lingering anger about Wall Street greed and the corruption of America's wealthy elites. In doing so it treads similar ground to such recent films as The Big Short and The Wolf of Wall Street in denouncing brazen, depraved profiteering. However, whilst both of these arguably largely succeeded in leaving a bitter, indignant aftertaste (despite their comedic slants), Money Monster falls short of achieving this same searing critical impact. With a screenplay by Alan Di Fiore, Jim Kouf and Jamie Linden, its apparent desire to both edify and entertain seem to, in the end, work against each other, rendering the film solid but unexceptional.
Showman Lee Gates (George Clooney) hosts a garish financial advice TV show, with dependable and grounded producer Patty Fenn (Julia Roberts) behind the scenes. Gates had recently touted 'safe bet' IBIS Clear Capital, but the company has suddenly lost $800 million, blaming it on a glitch in the trading algorithm. Walt Camby, CEO of IBIS Clear Capital (Dominic West), is scheduled to appear on the show to espouse the company's "complete transparency" motto, but becomes a conspicuous no-show, leaving his Chief Communications Officer Diane Lester (Caitriona Balfe) to manage the fallout. This is just as well: one incensed investor, Kyle Budwell (Jack O'Connell), has managed to sneak into the studio to hold Gates and the crew hostage live on air until he receives some answers about what happened.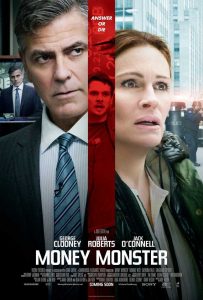 The film's central performances are fine. Clooney and Roberts are both solid, if not entirely pushed or challenged; one of the definite highlights of the film is seeing Clooney dancing in-sync with two back-up dancers, and it is refreshing to see Roberts play a tough, resourceful, character. However, O'Connell is the main attraction performance-wise. His indignant, hapless desperation and bewilderment is palpable, and he is undoubtedly the emotional centre of the film. Together, they make the film's stronger first half particularly tense, as Lee and Patty make various attempts to assuage and distract Kyle. These more terse psychological exchanges and manoeuvres lend the film an uneasy sense of unpredictability and volatility.
However, the film eventually lapses into more familiar and predictable action-thriller fare, so that by the time the film reaches it crescendo the stinging rebuke it was aiming for somehow feels less gratifying than it ought to. It offers some thought-provoking themes, ones that evoke the zeitgeist and attempt to stir anti-Wall Street sentiment, but mired by the more action-driven plot these ideas are only partially explored. Ironically, the feeling that remains by the film's end seems to parallel that of the countless viewers who tuned in while the whole debacle unfolded only to return to their apathy afterwards – that it was an engaging distraction while it lasted. Ultimately, if Foster intended to highlight, even critique, this indifference as part of the problem, it is probably not enough to compensate for the underwhelming execution of a weighty, intriguing premise.
Money Monster is in cinemas from 2nd June through Sony Pictures.