The Nice Guys is a neon filled, retro blast of slick schtick. Opening with uber-funky hit 'Papa was a Rolling Stone' we are transported to Los Angeles 1977. What ensues isn't really of much importance. What really makes the film is the back and forth repertoire of mismatched duo Russell Crowe as Jackson Healy and Ryan Gosling as Holland March.
Russell Crowe plays the straight guy. The typical hard man enforcer operating under the curtain of the law. It doesn't seem too far from his real life persona to be honest, but as an Aussie it's easy to enjoy his take no crap, cool as a cucumber style – with a paunch as strong as his gritty attitude. On the flip side Ryan Gosling, previously admired for his dreamy good looks and also lauded critically and commercially for his acting abilities, can also now be praised for his great comedic timing. Bumbling and supremely devoted to his daughter, Gosling soars as a highly likeable and charismatic buffoon. He absolutely nails the physical gags and it's hard not to forget the effeminate shrill added to the end of his sentences when under mortal peril.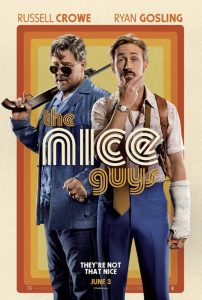 The plot is a contorting crime thriller masquerading as neo noir. Set amongst the dark hills a speeding car careens off the side of a mountain. A young boy stumbles upon ample breasted and nude dying porn star Misty Mountains. "How do you like my car big boy?" The words slide dreamily from her mouth. Cut to Russell Crowe knocking on the door of P.I Ryan Gosling. Under the coercion of physical violence Crowe convinces Gosling to cease work on his current case for missing girl Amelia (Margaret Qualley). After Crowe himself is strong-armed by enforcers with even less scruples he is forced to team up with Gosling for information and the two begin a hunt for the mysterious Amelia. It's a journey which takes them through the seedy pornographic and smog filled underbelly of LA.
At times the plot is a little convoluted and hard to follow but it matters little with writer/director Shane Black pulling the strings on this one. Black finds humor in both the mundane and the extraordinary at any and every turn aided mostly by Gosling's delivery. The quick pace, biting puns and debauched material result in an expeditious two hour running time. The Nice Guys isn't a perfect film but has all the makings of a cult classic, and really runs a bit like a 2.0 version of his 2005 directorial debut Kiss Kiss Bang Bang.
The Nice Guys is in cinemas from 26th May through Roadshow Films.