There aren't many films for which I smile at the mere thought of them. It's just so rare to find a comedy that hits the mark at every turn, and this is precisely what makes Taika Waititi such a marvel. His latest effort, Hunt for the Wilderpeople, based on the book by Barry Crump, has been causing spontaneous chuckles for days.
It's about Ricky Baker (Julian Dennison). A bad egg. A menace to society. A gangster. He didn't choose the Skuxx life. The Skuxx life chose him. And he's thirteen years old.
He's been cycled through foster homes and juvenile prison since he can remember, having been given up at birth and signposted as a 'problem child' by the authorities, and it's not until the kindhearted Bella (Rima Te Wiata) takes him under her wing on her farm in the highlands that Ricky starts to feel at home. Foster uncle to-be Hector (Sam Neill) is less enthusiastic.
But when Bella meets a sudden end and leaves Ricky with a distraught Hector, child services Terminator Rachel House (Paula Hall) threatens to take Ricky back. He's having none of it, and goes on the run. When Hector gives chase and inadvertently sets off a manhunt for a himself, a former convict, and an abducted child, they have no choice but to run.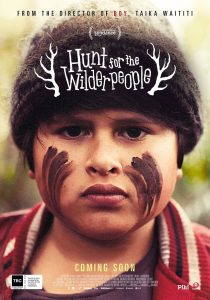 Narratively, this is a straightforward fugitive buddy film, but there's no substitute for impeccable delivery, and Julian Dennison is a revelation as Ricky. No offence to the rest of the child acting community, but Dennison puts you all to shame with this comically perfect performance.
Ricky is not just a scamp. He's a smart kid led astray. He's a reader. He's known loss and craves a home just like any other kid. He compiles haikus. He is constantly surprising and yet utterly believable, and you won't hear a bigger laugh than when he steps in to help his uncle with a gun-toting "Shit. Just. Got. Real." Ultimately, the comedic value for a film such as this is impossible to replicate in a review, so I won't try.
Sam Neill, enjoying a second wind in recent years, plays second fiddle with the right amount of bemusement and conviction. Meanwhile Paula Hall as the child services officer might put the New Zealand juvenile correctional system in a fairly brutal light, but she is similarly brilliant as the part of the anchoring villain. Rhys Darby and Waititi also make brief cameos throughout the shenanigans. It may get a bit ridiculous with car chases and shootouts, but surely that's the point.
Of course, that all of this plays out with such frankness and that self-deprecating Kiwi humour we got to know through Flight of the Conchords and then Waititi's Boy and What We Do in the Shadows sets it apart from the pack. Suffice to say that any film where a few sausages and a hot water bottle can make all the difference, and heaven is described as the domain of Doritos, Fanta, Burger Rings and Coke Zero gets my vote.
Hunt for the Wilderpeople is in cinemas from 26th May through Madman Films.