Written and directed by Ron Davis, Harry & Snowman is a documentary about an immigrant and the horse who makes him famous. Harry De Leyer and his wife immigrated to the United States from Holland not long after the second world war. Having grown up on a farm, caring for horses and other animals, Harry soon found farming work in his new home. Horses and riding being his true passion, he eventually found a job as a riding instructor at an exclusive school for girls in Long Island, New York. Raising his family with his wife, Harry worked at the school for more than twenty years.
It was during this time that Harry came across Snowman. Snowman was a horse nobody wanted, a worn down work horse, ready to be sent to a glue factory. Harry noticed something special in the horse and bought him at auction for a mere $80. Snowman proved to be much more impressive than even Harry first thought, and Harry and Snowman went on to be national show jumping champions for many years, even travelling together internationally.
Harry and Snowman had a deep bond, and Snowman was considered part of the family to Harry, his wife and their eight children. They travelled together, Snowman joined the family on trips to the beach; he was as much a family pet as he was a prize winning champion. It is the friendship between Harry and Snowman, and the adoration the De Leyer family have for Snowman, now long gone, which serve to frame this film.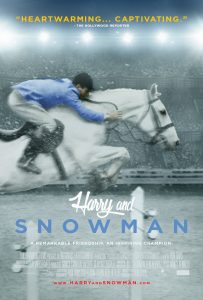 While the story of Harry & Snowman is interesting, and somewhat enjoyable, there is something problematic about this film. The film is relatively unbalanced, and there are certain aspects of the film which go by without any interrogation on the part of the filmmaker. It seems the intention here is to make a 'nice' film, and so where there appears to be potential for conflict, the film simply turns back inwards to the preferred themes.
Harry is described on several occasions as a 'tough' father, although of his eight children only three are interviewed for the film, the rest are curiously absent. Harry has a mildly arrogant streak, which is possibly tempered with age. The breakdown of Harry's marriage as a result of his preoccupation with his horses is only briefly discussed. Harry's involvement in the resistance in World War Two is brushed aside by Harry and his brothers with comments that they don't like to talk about that time. In the case of his marriage and his involvement in the resistance, it is certainly fair to not delve into such matters. This film is about Harry's relationship with a horse he saved, and the successes they shared from their fruitful companionship. But without interrogating anything else, this film seems incomplete, as though something is missing.
Harry and Snowman is pleasant enough, and will certainly appeal on several levels. As a story about persistence and the immigrant made good, and as a story about the bond between a man and his horse, this film works. But, with the sense that there is part of the story being left untold, Harry & Snowman is ultimately unsatisfying.
Harry & Snowman screens exclusively at Cinema Nova from 19th May through Becker Film Group.