The McDonagh brothers have produced some of the best written and most genuinely funny plays and films in recent memory. John Michael McDonagh achieved cult status with The Guard from 2011, which has the rare quality that it shares with The Big Lebowski in that it gets better with every watch. His older brother Martin holds the honor of giving the world In Bruges and Seven Psychopaths. Both are writers of rare talent, and nowhere is this more evident than in Martin McDonagh's first new play in ten years, Hangmen – brought to Australian cinema screens by National Theatre.
After a short but jointly funny/unsettling prologue where a young man is hanged for a crime that he continually denies, the majority of Hangmen takes place in a small pub in Northern England. Harry (David Morrissey, almost unrecognisable from his role as The Governor from The Walking Dead) is widely considered to be the second best hangman in England. It's a title he wears with pride, which makes the date that the play takes place in a little bit awkward, for the year is 1965 and it's the day capital punishment is abolished across the United Kingdom.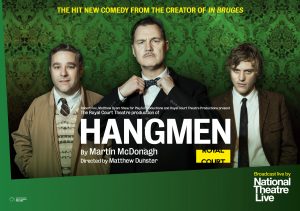 Over the course of nearly three hours McDonagh takes the audience on a journey which is here brought to life with an incredibly well cast and very talented group of actors which includes Reece Shersmith (Death at a Funeral) and the standout Johnny Flynn. His signature talent for rapid-fire dialogue about politics, nationality and the uncanny nature of the everyday is on full display. His characters are an amazing mix of English charm and quiet cynicism which that very rounded Northern English accent suits perfectly. These are people who see the world in a very deliberate manner that has clearly been carved from the revolutionary changes of the 1960s and those unforgiving Northern winters – quite a 'Stark' outlook, if you like.
McDonagh's talent for subtlety is used to perfection as this long and patent story unfolds. The writing and characters manage to plant the seeds of this story with a casual offhand comment which later becomes the basis of a major plot line. Throw in some monologues of true substance and some very funny one liners and you have the grounds for what might be a future classic.
Production design by Matthew Dunster serves as an excellent backdrop, oozing with the very dour charm that comes with a lot of English pubs – well-worn floorboards and open fires, etc.
Pretty much everything about Hangmen is excellent – performances, delivery of the dialogue, McDonagh's fascinating and savagely funny script, production design and direction. The Daily Telegraph declared it to be "The best new play of the year" and it's clear why. An excellent production from start to finish which everyone involved should be proud of.
NT Live: Hangmen is in cinemas from 14th May through Sharmill Films.