For those of my generation who grew up with a new Harry Potter film coming out every other year, it's hard to see Maggie Smith as anyone else besides kindly old Professor McGonagall. But this is just a taste of a career in the theatrical arts that has spanned over half the 20th century and a talent which has earned her – just to name a few – two Oscars, five BAFTAS, three Emmys and a Tony Award. Only twelve actresses have earned the 'Triple Crown of Acting' (Oscar/Emmy/Tony) and Smith is one. Plus there's the small matter of being named a Dame Commander of the Order of the British Empire for services to the performing arts by the Queen in 1990.
The first Academy Award that Smith ever won was playing the titular character in Ronald Neame's The Prime of Miss Jean Brodie which is playing during this year's Great Britain Retro Film Festival hosted by David Stratton. An interesting yet also entertaining drama from 1969, this award winning drama is able, like so many great films of this period, to deftly tell a story yet weave sophisticated ideas into the narrative without each one compromising the other.
A very young and very beautiful Maggie Smith plays Jean Brodie, a teacher at an upper class girls school in 1930s Edinburgh. She waxes lyrical about being in the prime of her life and seems to relish all the new and radical ideas that were swimming around the inter-war years. Think of her like a slightly hipster Mary Poppins or a snobbish British Miss Frizzle but with an outspoken support for Mussolini's Italy and Franco's Spain.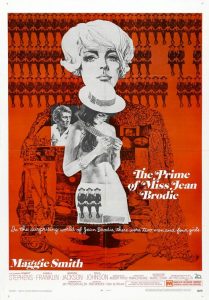 In her own words her job is to "put old heads on young shoulders" and she does this with new and unusual teaching methods which put her at odds with the very conservative head teacher. A select few girls from her class come under her wing, predominant of which is Sandy (Pamela Franklin) who soon comes to realise that this exciting new teacher might not be as profound or wise as everyone seems to think.
Maggie Smith has never been out of form and her performance here displays everything that she's so good at. That classy self-assuredness that is so typical of middle Britain is quite fun but Smith manages to blend this with a charisma and charm that make this character so memorable. Her supporting cast also delivers. Robert Stephens as the school's art teacher makes the character so suave that he's almost forgiven for being such a wanker. As it turns out, Robert Stephens was actually Smith's husband during this period.
Pamela Franklin is the other standout playing Sandy. Over the course of the film she blooms from a shy nerdy girl to a young woman in her prime. The great piece of subtext that lies underneath is that at first Brodie seems so appealing; she's bubbly and new and stands for everything exciting about this new post-war age. Yet as the film proceeds she becomes much less appealing, the sheen comes over her perfect demeanour and the nasty depths come out for all to see.
Keep in mind that during the inter-war years ideas like Fascism which now seem so ghastly were new and exciting. But after the Second World War where this clash of ideologies culminated these ideas were suddenly a very serious subject. What seemed so innocent soon lost all appeal – just like Jean Brodie.
As part of the Great Britain Retro Film Festival, The Prime of Miss Jean Brodie is classic viewing which showcases one of the best performances of Maggie Smith's career, which is really saying something.
The Prime of Miss Jean Brodie screens from 12th May as part of the Great Britain Retro Film Festival at Cinema Nova. For sessions times see here.