Maths may not be the most thrilling of subjects to everyone, but most people appreciate a good underdog story. The Man Who Knew Infinity follows acclaimed mathematician Srinivasa Ramanujan (Dev Patel) from Madras to Cambridge as he attempts to publish his theories on mathematics under the guidance of G.H. Hardy (Jeremy Irons). Not quite a rags to riches story, it's both inspirational and tragic, but it doesn't quite get full marks.
Dev Patel does away with his comedic talents here, instead affording Ramanujan the respect he deserves in a gracefully restrained performance. Jeremy Irons is in usual fine form as Ramanujan's mentor and ally, Hardy, and it is the relationship between the two men upon which the film rests. Hardy insists that Ramanujan provide proofs of his theories; Ramanujan doesn't have the time to waste on producing such evidence.
Matthew Brown's film doesn't waste its time on mathematical jargon, and does well in explaining a few basic concepts for unfamiliar viewers. It's not necessary to understand much more to appreciate the film, however viewers may be frustrated by the lack of insight into how a previously uneducated man could come up with such higher level concepts. Hardy asks Ramanujan as much, and Ramanujan responds that his equations came to him from God. The film doesn't seem to expect its audience to buy into this thinking, and so it's bewildering that it doesn't try to offer up an alternative possibility.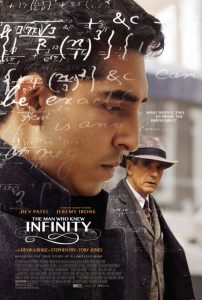 The film succeeds in portraying the sacrifices Ramanujan had to make in order to contribute to world knowledge. He leaves his wife (Devika Bhise) and mother (Arundathi Nag) behind in India, only to be ostracised in England by those who believe he has no place among European scholars. Set in 1914, it's clear things have changed considerably, but it is certainly possible to draw parallels with some attitudes today towards international students.
Where the film is let down is in its lack of affecting relationships. The scenes with Ramanujan's mother and wife are often dull, though without them there wouldn't have been a woman in sight. Their inclusion was likely an attempt to acknowledge Ramanujan's cultural background, however the filmmakers seemed to have sugar-coated this considering his wife was reportedly only ten years old when they were first married. The main relationship of the film is between Ramanujan and Hardy, and while their friendship is portrayed with warmth, it is never particularly emotive. This may be in part due to Brown's unusual choice to avoid the typical scenes that stir up such emotion in viewers, with the film unexpectedly skipping such moments. He was, however, content to incorporate a schmaltzy score, but it isn't quite enough to produce tears.
It's likely that viewers will leave The Man Who Knew Infinity with admiration and respect for a great mind, but it's not a film that either weighs heavily on its audience's hearts (as in A Beautiful Mind) or that will leave them in awe (The Theory of Everything). In addition, the importance of Ramanujan's achievements is not easily relatable for many viewers. Maths whizzes may be more impressed than the average movie-goer, but for the rest of us, just like in high school, we'll wonder why we even needed to know about these equations in the first place.
The Man Who Knew Infinity is in cinemas from 5th May through Icon Film Distribution.