If you are prepared to keep your expectations relatively low, then Bad Neighbours 2 is not a bad night out at the movies. Directed by Nicholas Stoller, there are just enough belly-laughs to be had, with solid performances from Seth Rogen, Rose Byrne and Zac Efron.
During a particularly awkward lovemaking session, Kelly (Byrne) announces to Mac (Rogen) that she thinks she's pregnant. Now that they are expecting another baby, Mac and Kelly have bought a new house and desperately need to sell the old one. They have buyers prepared to make an offer, but this offer hinges on a 30 day escrow – or 'cooling off' – period. This a seems pretty straight forward – a mould check, maybe a look at the guttering.
While Mac and Kelly contemplate escrow and what it means, Shelby (Chloë Grace Moretz) and her new college pals are looking for a different sorority experience, one they can't find in the traditional houses. They want to throw off the shackles of their pasts – traumatic high school years as geeks, losers and virgins (oh my) – and start anew. Hence, Kappa Nu. The founding members of Kappa Nu want a sorority with all the rights and privileges of a fraternity, minus the date rape, wet t-shirt competitions and drink spiking. With the help of Teddy Sanders (Efron), they can make their sorority a reality. Right next door to Mac and Kelly.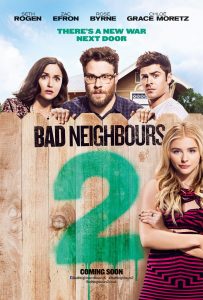 With the sorority next door, and their old nemesis Teddy (see the first instalment, Bad Neighbours) teaching the girls everything he knows, Mac and Kelly are in trouble. They have to sell their house, so they need the girls to behave for just 30 days. But the girls have established a sorority that can party, which means a nightmare once again for Mac and Kelly.
Rogen, Byrne and Efron give good performances, despite some undercooked material. Efron is proving to have potential in the field of comedy – this has been noted by myself (Dirty Grandpa) and by my esteemed colleague Kevin Hawkins (Bad Neighbours). Here he is underutilised and a little lacklustre, but this has more to do with the material than his performance. Efron is a good sparring partner to the more seasoned Rogen and the immaculate Byrne.
Bad Neighbours 2 is funny and enjoyable, although it feels quite under-developed. It seems more like an early draft that needs a few rewrites and tweaks to be really good. With a team of five credited writers including Stoller and Rogen, there should be a better outcome. The female roles and thematics are particularly problematic, and grate a little with this viewer. There were a lot of valiant attempts to embrace some feminist values here, but they don't quite hit the mark. There is some really good comedic writing around young women (see Lena Dunham's Girls or anything from Amy Schumer), and this film could have taken some cues from established good works. This is only a minor fault, as when taken as an easy, (very) low-brow comedy, Bad Neighbours 2 punches above its weight.
Bad Neighbours 2 is in cinemas from 5th May through Universal Pictures.