Having one of your parents die is one of the things in life that can't be properly prepared for. Like being in love for the first time or witnessing the birth of your children, you can read every book that's ever been written on the subject but until it happens to you, you'll never truly understand what it's like. It's something that many, if not most, of us will inevitably have to tackle at some point, and the new film by Palme d'Or winning Italian director Nanni Moretti explores it with both humour and poignancy.
Margherita (Marghertia Buy) is a director deep into the shoot of her new film about a factory strike. It's a social-realist drama which seems to be going alright but the introduction of the American/Italian actor Bary Huggins (John Turturro) throws the production awry. He can't remember half his lines, his Italian pronunciation is off, and he's so vain he probably thinks this song is about him. But directing a movie is only part of Margherita's swirling worries. Away from the shoot a recent break-up still troubles her, her adolescent daughter is struggling at school and most important of all her mother (Giulia Lazzarini) has been hospitalised and doesn't seem to be getting any better.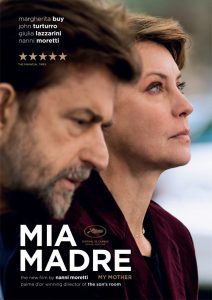 Mia Madre – 'My Mother' in English – is partly auto-biographical for Moretti whose mother passed away as he was finishing his 2011 film We Have a Pope. Most of the big themes explored here -which include life, death, love and film-making – are ones that Moretti has obviously spent a lot of time contemplating in the last few years. Moretti actually plays a role as Margherita's brother who seems to be equally as affected by the impending death of his mother, although dealing with it in his own way. One of the film's most touching moments is seeing the carefully prepared food that he brings to his mother while she's in hospital, this being Italy where food isn't so much a meal as it is a way of life.
Stories about the deaths of parents have been the basis for many really good films – a few recent examples include Cheryl Strayed's story Wild, Tim Burton's Big Fish and Mike Mills' beautiful little gem Beginners. Mia Madre has been getting some very good reviews around the world and winning awards at many festivals, including last year's Cannes. As good as a lot of the film is, the opinion presented here seems different from the general reaction that it's getting. Moretti has made a good film, not a great one.
The tone seems to swing around a lot. Any film which deals with parental death is inevitably going to have a sombre mood but the other half, which is about John Turturro and the film shoot, is played for laughs. Turturro hams it up playing a buffoonish actor and has a lot of fun while doing so, but the effect seems to weaken what might have otherwise been a very effective meditation on the slow decay of Margherita's mother. It's understandable to want to break up both story lines – one would make the film humorous and the other would make it quite sad – but the result is that each one contradicts the other and makes it weaker. This and the problem that some sections do drag spoil what is otherwise a perfectly good film.
Despite not reaching the heights that it might have otherwise risen to there are some genuinely fine moments here. Little glimpses into humanity like when the excellent Giulia Lazzarini's Ada quietly muses that as you get older everyone around you seems to think you're dumber. Or when Margherita breaks down and starts wondering what is going to happen to all the books her mother has collected over a lifetime, with so many hours spent pouring over innumerable words which amount to absolutely nothing at the end of her days.
Whether he hits all the targets he aims for is debatable but the deeply human themes and emotions that Nanni Moretti tries to tackle with Mia Madre are commendable.
Mia Madre is in cinemas from 28th April through Palace Films.