A Month of Sundays is a film about family, the aging process and moving on. It is a warm and funny film, but with a slightly darker edge to the comedy.  Set in suburban Adelaide, A Month of Sundays is Australian writer/director Matthew Saville's most recent feature film.
Frank Mollard (Anthony LaPaglia) is a real estate agent, divorced and struggling.  His boss Phillip Lang (John Clarke) notices Frank is despondent, and tries to keep him motivated.  Frank has a relatively amicable relationship with his ex-wife Wendy (Justine Clarke), but her recent success as a television actress makes her presence inescapable.  Their son Frank Jnr. (Indiana Crowther) is a distant and disinterested teen, with no time for his father.  Frank is plodding through life, not making much progress.  Until he gets a phone call from his mother.  His mother who passed away a year ago.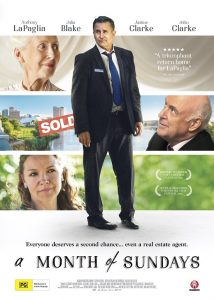 The phone call from his dead mother changes Frank. Of course it isn't really his mother, simply a wrong number, but he is moved by the call nonetheless.  Striking up a friendship with the caller Sarah (Julia Blake), Frank starts to notice the things in his life that have been missing.  Sarah realises that Frank needs her and tries to help and include him, although her own son Damien (Donal Forde) is quite sceptical.
A Month of Sundays is perfectly timed, with a great sense of pace throughout the duration of the film. The real estate themes help to punctuate the film, and form the basis for much of the humour.  Anthony LaPaglia gives Frank a dry wit and humour, giving the film a slightly darker edge to its comedic values.  John Clarke is wonderfully paired with LaPaglia, the banter between the two giving plenty of deeply funny moments.  This is the sort of comedy Australia can do very well – a little bleak, a little black, ever so slightly on-the-nose, but not quite tipping over the edge.
A Month of Sundays is beautifully filmed, the camera work from Mark Wareham captures gorgeous small details.  Early scenes are quite dark, giving a sense of the dull and claustrophobic nature of Frank's world.  However as Frank starts to evolve the film brightens and the light softens.  Director Matthew Saville has done fine work here, and has previously delivered an excellent film in Noise (2007). A Month of Sundays is certainly lighter in tone and mood than his previous films, but still has a darker edge.
A Month of Sundays is in cinemas from 28th April through Madman Films.