Godforsaken is beautifully filmed, but unfortunately a convoluted script and hammy acting leaves this feeling more like a bad episode of Midsomer Murders than a half-way decent film.  The intricate script becomes nonsensical, leaving the viewer lost as to what is actually happening.
An angel (Nick Ashdon) is stripped of his wings after failing to save a young kidnapped child.  His punishment is to be sent to Earth, walking amongst humans and trying to make up for his past mistakes.  In an effort to redeem himself, the angel tries to help the grieving mother of the child he failed to save, attempting to get her life back on track.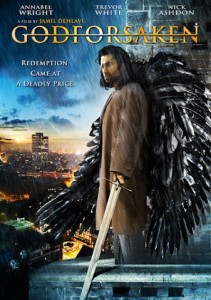 It is many years later and a woman visits a London church to speak with a priest (Dominic Mafham); the priest too knows of the angel.  The woman (Annabel Wright) recounts a story which the priest initially refuses to believe, denying any involvement, a story of the fallen angel.  The woman then tells her own story.  She was a dancer, a successful ballerina, who married a wealthy American nightclub owner (Trevor White).  They were blissfully happy and eventually became pregnant.  When the woman went into labour, a strange man assisted her giving birth to her daughter in the underground car park of their apartment building, saving the life of her and her baby.  From here things started to become sinister.  The American man had previously lost a child when a kidnapping went wrong; his distraught wife was committed to an asylum where she remained heavily medicated.  The woman recounted her own fear, as she came to worry that someone would harm her and her daughter too.
The opening scenes offer a promise of a decent film: lovely cinematography underscores a young girl performing her ballet entrance exams. These scenes are juxtaposed with scenes of two men running through a tree-filled cemetery; careful editing suggesting good attention to detail from director Jamil Dehlavi.  Unfortunately the film deteriorates from here.
Godforsaken seems at first as though it will be an engrossing, dark thriller. Regrettably the story becomes too complicated, with twists involving doppelgangers, botched kidnappings, fallen angels and religious allegory.   In many places the plot simply does not make sense, becoming ludicrous and amateurish – far more like a cheap telemovie than a fine piece of cinema.  There are plenty of complex thrillers about, many filmmakers have built careers on this mode of film.  Last year's Secret in Their Eyes was a complicated script, albeit flawed, but was also sharp in its execution. Godforsaken is certainly not a good example of this style.
Godforsaken is available on DVD and VOD from 20th April through Bounty Films.