Rudyard Kipling's The Jungle Book is brought to life in Disney's first live-action adaptation of the year. Justin Marks' screenplay is a darker take on the Disney classic, appearing to borrow more from Kipling's books than the 1967 animation. All the familiar characters are back – one with a sex change – and Mowgli's happy-go-lucky attitude is still there, but this is certainly not one for the littlies.
After being left an orphan, Mowgli (Neel Sethi) is taken by black panther, Bagheera (Ben Kingsley) to wolf couple, Akela (Giancarlo Esposito) and Raksha (Lupita Nyong'o). They raise him as part of their pack, and he grows up as a man-cub amongst wolves. Life's pretty sweet in the jungle, until the jaded Bengal tiger, Shere Khan (Idris Elba) shows up thirsty for vengeance. Believing that man does not belong in the jungle, he wants Mowgli dead.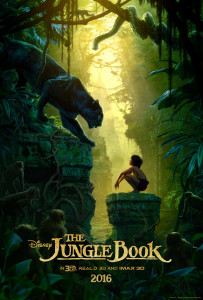 The animal kingdom is presented in all its glory, with majestic beasts gracing the screen in splendid CGI. Director Jon Favreau, responsible for Iron Man, knows how to do action and his cuts are seamless. The voice cast boasts plenty of well-respected performers, including Bill Murray as Baloo and Christopher Walken as King Louie; both are wonderful. Originally a male character, the snake, Kaa is voiced by Scarlett Johansson, reportedly because Favreau thought the original was too much of a sausage fest. Newcomer Neel Sethi barely leaves the screen as young Mowgli, and though he is occasionally awkward he is extremely likeable.
Unfortunately for those among us who are musical lovers, Disney appear to be shying away from maintaining much of the musical element in their live-action remakes (see Maleficent and Cinderella). However, we're still treated to half-spoken-half-sung versions of 'The Bare Necessities' and 'I Wan'na Be Like You', which should warm nostalgic hearts. Though it's darker this time around, this version still produces a few laughs, mostly courtesy of Baloo and Bill Murray's delivery.
Kids under the age of eight will probably be scared witless by a few scenes of savagery, however older children may find much to marvel at. The film does drag in parts and feels longer than its 105 minute running time for this reason. Kids may be bored by some talky patches amidst the action and adventure. Warner Bros' own Jungle Book, directed by Andy Serkis, is slated for release in 2018, and it will be interesting to see whether it is capable of adding anything new (Benedict Cumberbatch aside). It promises to be darker still, so if you've been waiting to introduce a live action version of this famous story to your children, the current offering may be your best bet.
The Jungle Book is in cinemas from 7th April through Disney.