If you want to know why the arts are imperative in education, you need not look any further than Wide Open Sky. In this local documentary, choir director Michelle Leonard travels 4000km across rural NSW, auditioning 2000 primary school kids for her Moorambilla Voices Regional Choir. One hundred and thirty children are selected, and attend a three day camp in which they must learn a repertoire of songs. One month later they perform with the Sydney Symphony Orchestra.
In the vein of other recent docos (Gayby Baby, First Position, I am Eleven), Wide Open Sky focuses on four young individuals. Opal, from Grawin, likes to sing and has even written a few songs. Taylah, from Brewarrina, has dreams of becoming a musician, but has never had the opportunity to learn how to read music. Kyhnan, from Lightning Ridge is a little ripper who loves to play footy and has an attitude that will make your heart soar. Mack, also from Lightning Ridge, feels like he has to hide his love of song and dance or he'll lose friends. Through their involvement in Moorambilla Voices, their passion for music is ignited and their personal growth is evident.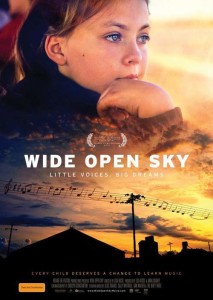 The students' response to an intensive three day practice is inspiring, especially for kids who've barely seen a piece of music before. Director Lisa Nichols is adept at capturing quiet moments of joy for each of the main players. The expression on Mack's face when he is among those who share his passion for music. Tahlah cruising down the dusty streets on her bike with a sense of ambition. Kyhnan's audition for a solo after a month of practicing. Opal hesitantly sharing her own composition. As well as the four main kids, Nichols regularly returns to friends Katelyn and Ella who offer their own humorous commentary on the experience.
Michelle – the hero of the piece – is scathing of Australia's focus on sporting achievements, pointing out that music teaches discipline and teamwork just as well as sport does, if not more so. It's a fair enough stance given the lack of funding allocated to music programs, especially in these regional areas where it is almost nil. The government could learn a thing or two from this film.
This reviewer heard one critic grumble that Wide Open Sky was "rather procedural", assumedly because it didn't stretch the boundaries of the documentary genre. But does that matter? Nichols showcases a simple story that champions regular kids and the importance of arts in education. And that is not something to scoff at.
Wide Open Sky is in cinemas from 14th April through Entertainment One.